August 31, 2010
Peace of Mind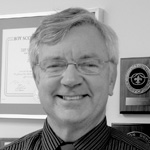 By Bob Morrison
Development Director of Ridgecrest Village
"Peace of Mind" is a worthwhile goal for us all.
Now my wife and I know about "Peace of Mind" first hand. Let me explain…
My father, Don Morrison attended the very first "Honor Flight of the Quad Cities" in November 2008. He and my mother, Phyllis, drove from Clear Lake, Iowa and stayed in a rental room at Ridgecrest Village in Davenport. After dining and visiting with several Ridgecrest residents and seeing what life is like with all the activities, they said "Some day we would like to live here…. but we're not ready yet!" I'm sure most senior living facilities would say they have heard this many times.
Three weeks later, they called to say "We are ready!" Dad had just returned from a doctor's appointment and realized how quickly life (and health) can change. One month later, the house sold and our family was moving their furniture into Ridgecrest Village, their new home. It was a lot of work downsizing their possessions, but we were thankful it was during a happy time when we could interact with each other.
My brother and I were so relieved they would have the security, medical care, and social activities necessary for a good life. Neither of us lived closer than three hours and could not check in on them as often as we wanted.
Now if they have a doctor's appointment, they have rides and even others to go along as companions. They eat delicious meals, play cards, Wii games and tournaments, get their hair done, visit physical therapy, attend church services, men's groups and women's groups, and enjoy social affairs; all in one retirement complex. Should they need nursing visits, they will have it. Should either need Assisted Living services, they will have it. Should they need full scale nursing care, they will have it. If we want to visit or take them out somewhere, they can do it. All from one quality care complex. Now that is "Peace of Mind!"
I recently visited with another family about this. Tom said, "Our kids rejoiced that we made the decision to move into a retirement community. We took the burden with us instead of forcing our kids to make tough decisions at a time when we become less able to investigate it for ourselves. Our children were very encouraging." Tom & Mary Kalshoven"s son and family are another example of "Peace of Mind!"
My conversations with senior living residents usually include something like, "Moving here was a great decision. With all the activities, social interaction, and good food, we should have done it two years
earlier."
Another interesting happening: A few months ago, my folks organized an anniversary party. Over 40 people attended thinking it was their wedding anniversary. Imagine everyone's surprise when they announced that they were celebrating their One Year Anniversary; not of their wedding, but they wanted to celebrate the first year of enjoying their senior living community!
I hope you agree that "Peace of Mind" is a worthwhile goal for us all.
Filed Under: Finance, Retirement
Tags: Bob Morrison, Clear Lake Iowa, Companions, Davenport, Delicious Meals, Development Director, Don Morrison, Father Don, Happy Time, Honor Flight, Nursing Care, Peace Of Mind, Physical Therapy, Possessions, Quad Cities, Quality Care, Social Affairs, Village Peace, Wii, Worthwhile Goal
Trackback URL: https://www.50pluslife.com/2010/08/31/peace-of-mind/trackback/