November 4, 2010
An Unexpected Heirloom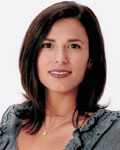 Stacy Smith
Stacy Smith Studio
Stacy Smith understands heirlooms. She makes them every day. She also understands a thing or two about the making of an heirloom. Her collegiate degree in psychology from the University of Iowa allowed her to pursue a meaningful career in social work. But taking an art class – in a little-known art form called metalsmithing – allowed her to pursue an artistic passion.
Crediting her grandmothers for the inspiration, Stacy now owns and operates Stacy Smith Studio from her Bettendorf home. But that's only part of the story. How that all came about is a story unto itself. Growing up in Chicago, Stacy was inspired by the artistic talents of one grandmother, Milanka Tomas. Her other grandmother, Edna Costopoulos, later paid a modest inheritance forward, using money she inherited to help Stacy pay the tuition for her art studies in Pennsylvania. When grandma Tomas died, Stacy knew she needed to honor her memory by embracing and nurturing her grandmother's strong sense of artistic entrepreneurship.
At that time, Stacy had just begun creating her own family's thumbprint heirlooms as a meaningful way to bridge the physical distance between out-of-state loved ones. The resulting jewelry – combined with the desire to feel closer to her late grandmother – became the inspiration to launch her Beloved Collection, now numbering over 100 pieces. Each piece is available in either solid fine silver or gold.
"Once I began making these for other people, I found that there really is a tremendous interest in this type of highly personalized jewelry," she stated. "Orders are consistent throughout the year – but Christmas and Mother's Day are always my busiest seasons." And because she's also busy being a mom, Stacy appreciates the flexibility of having her studio right in her home. "It's nice to have both my family and my studio right here," she said. "I can balance my family time with my studio time."
Custom designs are challenges she especially enjoys. "One customer asked if we could put three prints on a clover design. I really enjoy that type of creativity. Custom orders are always welcome." While family relationships generate most of her orders, others have ordered from the Beloved Collection to honor friendships and inspirational relationships, too.
"The most exciting part of my work," Stacy acknowledged, "is knowing that I can have a hand in creating a highly individualized heirloom that may be handed down through generations with stories and memories. That means a lot to me."
Using an inspirational gift from one grandmother, and a financial gift from the other, Stacy has learned – and mastered – an art form that truly honors both. Some might say it's an heirloom.
Stacy Smith is a Certified Artisan by the Precious Metals Clay Guild. She and her husband, Kevin, live in Bettendorf with their three children. The Beloved Collection may be viewed and purchased online at www.stacysmithjewlery.com.
Filed Under: Community, History
Tags: Art Class, Art Form, Art Studies, Artistic Passion, Artistic Talents, Beloved Collection, Career In Social Work, Costopoulos, Degree In Psychology, Edna, Family Time, Grandmother, Grandmothers, Heirloom, Meaningful Career, Personalized Jewelry, Stacy Smith, Studio Time, Thumbprint, University Of Iowa
Trackback URL: https://www.50pluslife.com/2010/11/04/an-unexpected-heirloom/trackback/