December 6, 2010
23rd Annual Older Workers Awards
By Peggy Dykes
Generations Area Agency on Aging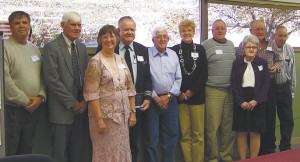 The 23rd Annual Older Worker Awards ceremony sponsored by the Senior Internship Employment Program, a part of Generations Area Agency on Aging was held on November 3rd at the Generations offices, 935 E. 53rd Street, Davenport. The Generations Employment Program assists older workers, age 60 years and better, from Jackson, Clinton, Scott, Muscatine, Louisa, Henry, Des Moines and Lee Counties in Iowa. Approximately 80 people were in attendance. Over the past 20 years Generations has honored approximately 353 older workers and 83 employers of older workers. Again this year, the "Tom Ryan Community Spirit Award" was presented honoring an employer or an older worker who exemplifies community spirit and a commitment to helping others. Special guest speaker was Joe Whitty, Founder/CEO Happy Joe's Pizza & Ice Cream. Goody bags were provided to each award winner from Catfish Bend Casino, Burlington
The following individuals received awards at the ceremony:
Exemplary Merit
• Robert "Bob" Britton, Driver, Trailways Bus System, West Burlington
• L. Eugene Kooi, Greeter, Wal-Mart, Clinton
• John Shriver, Van Driver, Renzenberger, Inc. Transportation Services, Fort Madison
• Tom Walljasper, Math Teacher – Holy Trinity Catholic High School, Fort Madison
Special Achievement Award
• Maralyn Burkhart, Home Care Aide/Companion, Mobile Nursing Services, Fort Madison
• Ramona Farr, Obituary Reporter, Quad City Times, Davenport
• Phyllis J. Hlubek, Executive Secretary, Archer Daniels Midland Company, Clinton
• Bill Reagan, Custodian, Davenport Community Schools
Tom Ryan Community Spirit Award
• Larry May, Clinton Volunteer: Clinton Youth Athletic Programs for 30 years, Hosts Foreign Exchange students, musician at Alverno, Clinton Riverboat Days and Clinton Civil Service Commission
Older Worker of the Year Award
• John D. Sammons , Two jobs – Greeter at WalMart and Case Worker at Bridgeway, Inc., Keokuk
If you are interested in assistance from the Senior Employment Program please contact Generations Area Agency on Aging toll free at 1-800-892-9085 extension 208. The program has a Employment Specialist located in the Iowa Workforce Center office in Burlington covering the Ft Madison/Keokuk area, call for Jan at 1-800-642-4032 or 319-470-2888. Jan can also meet clients at the Southeastern Iowa Community College in Ft Madison one day per week.
Peggy Dykes is Community Relations Director for GENERATIONS – Area Agency on Aging. She can be reached at 563-324-9085 ext 212 or www.genage.org
Filed Under: Community, Featured, News
Tags: Archer Daniels Midland, Archer Daniels Midland Company, Bob Britton, Bridgeway Inc, Catfish Bend, Catholic High School, Civil Service Commission, Clinton Riverboat Days, Clinton Youth, Community Spirit Award, Daniels Midland Company, Davenport Community Schools, Foreign Exchange Students, Goody Bags, Holy Trinity Catholic, Holy Trinity Catholic High School, Quad City Times, Street Davenport, Trinity Catholic High School, Walmart
Trackback URL: https://www.50pluslife.com/2010/12/06/23rd-annual-older-workers-awards/trackback/