December 6, 2010
In and Out of the Quad Cities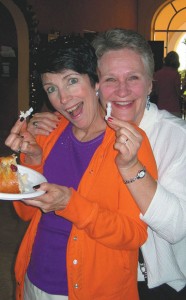 Contributed by Gail McPike and Toni Hall
Gail and Toni extend Holiday Cheer … this time by a full 6 days
We know that many of you have this preconceived notion that big time travel correspondents like us operate with a cadre of support staff. You know –administrative assistants to make our reservations, creative specialists to pitch us ideas and maybe even an intern or two to fetch us coffee. In truth, we run a pretty Spartan operation around here.
Current Trophy Husband (CTH) Frank who is fond of famous quotes often uses this little reminder from rock legend Jerry Garcia: "Somebody has to do something – isn't it incredibly pathetic that somebody is us." And we think Jerry might have been thinking about us.
So back to the story in progress… Month after month we attempt to regale our readers, by sharing some essence of our adventures at home or abroad. [Anything outside of Iowa is "abroad"] We have so many things to talk about we have to "weed" a few of our adventures out of the mix. Once we have the list, we sort through the details – the dates, exact names, etc. We write the basic story.
This month was different. Our schedules got all shuffled up. I, Toni, went to California for a couple of weeks. I, Gail, decided November was a good time for foot surgery. By the end of the month our collective adventure gauge was running on "empty." So as they used to say on the radio, "The old clock on the wall is saying it's time to go." Or in our case, to put together an article.
Then we got to thinking…Hey it's December. This is the grandest time of the year. In a short span of a few weeks we have: home and hearth, yard and tree decorating, Holiday parties, plays, ballets, concerts and programs to honor Christmas, Chanukah and Kwanzaa. We also have Boxing Day and New Year's Eve and New year's Day. It's like Casey Kasem's "American Top 40 of Holidays."
We love this time of year so much we hate to see it end. We enjoy four solid weeks of Holiday fun then wham – it's over. Just like that. What a letdown?
Six more days of Holiday Season… What if we could devise a plan that would give the us six additional days of holiday season? What if rather than packing it all up on New Year's Day you had a something special a week later? If we devised something festive, fun and not all that expensive; we would become the heroes (heroines) of all our friends. This would be our new quest – our holly lined Holy Grail.
We pulled out reference books; we scoured the internet in search of a great new adder holiday. We thought about Vietnamese New Year but February 3rd seemed too distant. We thought about creating a new holiday like the good Doctor Karenga, but that seemed like a lot a work. (Remember our comments about no staff.) Then we remembered the perfect holiday addition – "Dia de Reyes." Here in America, we call it "Epiphany" but doesn't "Dia de Reyes" sound more festive?
Let us tell you about our first encounter with Dia de Reyes (the Day of the Kings). A few years ago we traveled to Mexico on January 6th. It seemed like a normal day to us except that every now and again we noticed guys dressed up like the Wise Men from a nativity set. Later we saw huge loaves of sweet bread spread out for all to sample. Then somebody told us about Dia de Reyes. The Day of the Kings marks the last official day of the Mexican Christmas celebration. It symbolizes the Three Wise Men visit to the baby Jesus. In Mexico children write letters to the Magi suggesting some little present. And from where we sit, these guys need all the suggestions they can get. Think about it – what kind of wise guy would give a little boy gold, frankincense or myrrh? CTH Phil says if they had any kind of common sense they would have brought baseballs, a scooter or a genuine Daisy Red Ryder BB gun. But we digress – back to our holiday extender.
The main part of the celebration is a centerpiece of sweet bread shaped like a wreath. It comes with candied fruit on the top and a small figurine of a baby Jesus cooked into the loaf. The person or persons who find the miniature statue win prizes and sometimes the honor of hosting the next party. This is the Holiday Party that keeps on giving.
And finally, we would like to extend our wishes for you and yours to have a great (and now new and extended) Holiday Season. As Christians we honor the Christmas tradition – but we also celebrate Chanukah and are looking forward to our first Kwanzaa. If the fruitcake we sent you doesn't arrive in time for New Years – let us know. We will have more
adventures to share in 2011.
Tags: Administrative Assistants, American Top 40, Ballets, Casey Kasem, Clock On The Wall, Creative Specialists, Cth, Exact Names, Famous Quotes, Foot Surgery, Holiday Cheer, Holiday Parties, Home And Hearth, Jerry Garcia, Mcpike, Old Clock On The Wall, Preconceived Notion, Quad Cities, Rock Legend, Trophy Husband
Trackback URL: https://www.50pluslife.com/2010/12/06/in-and-out-of-the-quad-cities-14/trackback/