December 6, 2010
Spread Holiday Cheer this Season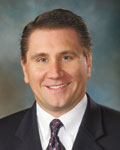 By David W. Deuth, CFSP
President, Weerts Funeral Home
At the age of 15, I began working as a CNA in a skilled-care nursing facility in my hometown. As a new part-time employee, I wasn't at all surprised to be scheduled to work on Christmas Eve that year.
Admittedly, I grumbled a little bit as I went to clock-in for the 3-11 shift that day. After all, I was missing Christmas Eve church service. And Mom's always-splendid turkey dinner would surely be in the Tupperware containers in the refrigerator by the time I could finally trudge back home around 11:30 PM.
Each time I went to work, I wanted to be sure that – somehow – I could be a "bright spot" in the day of the residents I was caring for. If I could coax a smile out of most of them, I felt pretty good about being there. And if I could help a few of them laugh somewhere along the way – it was a grand day for me; I could only hope they felt the same way.
It was hard to get myself into that frame of mind on Christmas Eve. I was focused far too much on everything I had convinced myself I was missing…and focused far too little on my true purpose in being there for the residents. It was, after all, Christmas Eve for them, too.
As I began to shift my focus from myself to the residents, it became more apparent to me that many of them did not have any guests visiting them. And it was Christmas Eve. I was convicted: it was time to help people smile a little bit.
Going from room to room with fresh ice water, I began whistling familiar Christmas carols along the way. Some of the residents began to hum along…some attempted to whistle…but they all smiled when I walked into their rooms. It was turning out to be a good day after all.
As I whistled my way into Gladys' room, I saw that she was resting in bed. Opening her eyes slightly, I took her hand and asked her if she had a favorite Christmas carol. Breaking a feeble smile she gave my hand a gentle squeeze; having suffered a stroke several years prior, she had been unable to speak as long as I had known her. "I'll bet you'd like 'Joy To The World'," I said and began whistling the familiar tune. As she squeezed my hand again, I promised her that I would return to help her with Christmas Eve dinner after just a little while and went whistling along to the next room.
Before long, a few more family members arrived and began bringing their residents to the dining room for dinner. As the other nurses and I assisted other residents to the dining room, I saved a place at the table for Gladys.
Whistling 'Joy To The World' in the hallway as I made my way back to Gladys' room, I was certain that she would know I was coming back. Another nurse joined me as I told Gladys that we were there to get her up for dinner. Approaching her bed with the wheelchair, I was looking for that feeble smile on her face. But Gladys wasn't smiling this time…and we quickly realized that she had died.
My heart sank.
With tears in my eyes, I helped the charge nurse get ready for the funeral director to arrive. My thoughts shifted momentarily to the other residents in the dining room – and an empty space at the table there. Then it occurred to me that Gladys was one of the residents who had no other guests that Christmas Eve.
And suddenly I realized why I was supposed to work that day.
And I still Remember Well.
A licensed funeral director, David W. Deuth is the owner of Weerts Funeral Home in Davenport.
He can be reached at 563.355.4433 or Dave@WeertsFH.com.
Filed Under: Community, Featured, Personal Growth
Tags: Cfsp, Christmas Carol, Christmas Carols, Christmas Eve, Cna, Frame Of Mind, Gentle Squeeze, Hometown, Little Bit, Nursing Facility, Part Time, Refrigerator, Skilled Care, Spread Holiday Cheer, Time Employee, Trudge, True Purpose, Tupperware Containers, Turkey Dinner, Weerts Funeral Home
Trackback URL: https://www.50pluslife.com/2010/12/06/spread-holiday-cheer-this-season/trackback/