December 6, 2010
Tales by Triplett – It's Good to Believe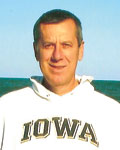 By Patrick Triplett
Several years ago my grand daughter Allison sat on Santa's knee at the mall and told him what she wanted for Christmas. Her parents were anxious to find out themselves since she hadn't told them what is was she wanted. When they asked her what she told Santa she simply replied, "You'll find out on Christmas morning."
We all had a good laugh over it and the "secret" gift was eventually revealed in time for Christmas. But that moment has stuck with me over the years. When I'm fighting through the throngs of impatient people at the mall to pick out a gift for my wife. Or spending the better part of a weekend cursing while trying to get the Christmas lights untangled only to have them go out when I finally get them hung up. Thanks to Allison, I pause and realize what Christmas should really be about.
It's more than buying presents and hanging lights. It's about innocence and wonderment and anticipation. It's jumping out of bed at the crack of dawn to discover presents under the tree and knowing Santa had been there because the cookies and milk you set out for him were gone. It's a feeling that something special – something magical, had happened and we were a part of it.
And then one day we stop believing. It usually comes around the time when mom and dad aren't as cool as our friends. When going to grandma's house for Sunday supper and eating her freshly baked home made pie for dessert becomes more of an obligation than a treat. When telling little white lies and disobeying our parents every now and then suddenly becomes okay.
It's when we start mistrusting others and look down at those who aren't like us. It's when we stop giving our parents a hug and telling them how much we love them. When we stop saying our prayers at bedtime and call our friends on the phone instead. When looking for hidden Easter eggs and carving pumpkins becomes dorky rather than fun.
In short, we grow up. But in doing so we lose a part of ourselves that we will never get back. Maybe believing in Santa is a good thing that we shouldn't lose. He may not exist in the logical part of our brain but couldn't he still live in our hearts? We could all certainly stand being a little more innocent and a little less cynical.
This Christmas, let's bring Santa back into our lives, if only for a little while. Let's keep the chimney flue open and allow ourselves to think that maybe – just maybe, that noise on the roof during the night is the sound of reindeer. And when we wake up in the morning and go downstairs with our kids let's believe that it was Santa who put those presents under the tree. And that was him who ate the cookies and drank the milk.
Actually, why not take it one step further? Let's believe that magic and miracles really can happen. Let's buy one less present for our family and one more for someone who needs a miracle in their lives. Let's tell each other how much we love them and how much they mean to us. Let's say a prayer of thanks at the dinner table and mean it.
Let's walk up to a total stranger and say "Merry Christmas." Let's walk down the block stopping at houses and sing Christmas carols after dinner and then shovel their walks for them as a gift. Who knows? It just might be the best Christmas ever. At least the best one in a long time.
Tags: Anticipation, Carving Pumpkins, Christmas Lights, Christmas Morning, Cookies And Milk, Crack Of Dawn, Daughter Allison, Grand Daughter, Grandma S House, Hanging Lights, Hidden Easter Eggs, Impatient People, Innocence, Little White Lies, Mom And Dad, Prayers At Bedtime, Special Something, Throngs, Triplett, Wonderment
Trackback URL: https://www.50pluslife.com/2010/12/06/tales-by-triplett-it%e2%80%99s-good-to-believe/trackback/