January 2, 2011
Max's Musings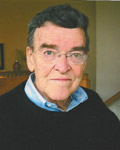 By Max Molleston
I am most happy with things familiar to me. Does that ring a bell? the newest cycles in our nation and its reflection in the world, send an unreal portion of our jobs away. We get the doors slammed on customary activities and on things we consider "advancement."
The News Year is a puzzle in its terms of what is ahead, and how shall it be treated for us and by us. In our household, with the two if us and a family of my daughter's just minutes away in Iowa City, their concerns can become our concerns. It has always been that way, in households open and generous. It tends not to be with some family groupings where envy and limited resources rub the wrong way, consistently. These cases, haves versus have nots, however you lay it out, is always emotional and, to me, "carrying that water" can lead to a slippery pathway. For me, questions and answers need to be simple and direct. So much so that each, hearing, can understand. I have been through job cuts which meant layoffs, and in the end retirement. My wife had a responsible position in a school system. We knew our home was ours and meals would be no challenge. For more of the U.S. that has been fussy and messy and tied to people who want to say no. I go to poetry of Illinois native and Chicago chronicler Gwendolyn Brooks. Brooks could and did write poetry of all types: she was skilled in language and the turn of words to capture the day. Here is her poem:
The Bean Eaters

They eat beans mostly, this old yellow pair.
Dinner is a casual affair,
Plain chipware on a plain creaking
Wood.
Tin flatware.

Two who are mostly good,
Two who have lived their day,
But keep putting on their clothes
And putting things away.

And remembering…
Remembering with twinkling and Twinges
As they lean over the beans in their
rented back room that is full of beads
and receipts and dolls and cloths, tobacco
crumbs, vases and fringes.
There are other kinds of reality. their time may not be our time. For instance, this famous poem by Robert Frost.
Stopping by the Woods
On a Snowy Evening.

Whose woods are these I think I know
His house is in the village, though;
He will not see me stopping here
To watch his woods fill us with snow,

My little horse must think it queer
To stop without a farmhouse near
Between the woods and frozen lake
The darkest evening of the year.

He gives his harness bells a shake
To ask if there is some mistake.
The only other sound's the sweep
Of easy wind and downy flake.

The woods are lovely, dark, and deep,
But I have promises to keep,
And miles to go before I sleep,
And miles to go before I sleep.
We are closing another montly note with extreme pride to be a part of the 50 Plus Lifestyles family of information. Join us within these folds in February of the new year.
Filed Under: Personal Growth
Tags: Casual Affair, Chronicler, Creaking Wood, Envy, Family Groupings, Fringes, Gwendolyn Brooks, Illinois Native, Iowa City, Layoffs, Limited Resources, Musings, Nots, Pathway, Receipts, Responsible Position, Twinges, Twinkling, Vases, Wrong Way
Trackback URL: https://www.50pluslife.com/2011/01/02/max%e2%80%99s-musings-18/trackback/