January 3, 2011
In The Name of Love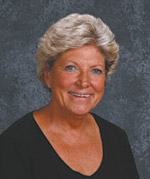 By Mary Schricker, SRES
Realtor
Ruhl&Ruhl Real Estate
When I was held hostage by a December snow storm, I decided to snuggle under a blanket in my favorite chair by the fire and watch one of those sappy Christmas love stories. During the commercial break I looked up at the sign hanging on the wall of my living room.
Welcome Home – Home is where the heart says" AHHH"
It occurred to me that was exactly how I was felt at that moment -safe and warm and so lucky to be in my own home away from the wind and icy conditions that existed outside. I began thinking about how important my home is to me; it is truly an extension of who I am. It allows me to express my domestic side, entertain friends and family, and of course provide that sense of security so important to us as we age. I thought about my mother who at the age of 87 had to be moved from her lovely condo to a senior care facility. Even though the facility where she resided provided top quality care in a safe environment it was still not her home. Her move, prompted by a serious medical condition, was not what anyone in our family wanted to see happen.
As a Seniors Real Estate Specialist it is my philosophy that seniors should be allowed to remain in their home as long as they possibly can. To this end, I often visit seniors in their homes and counsel them on making the necessary adaptations that might buy them some time. Some suggestions I often make are:
• Find a location on the main floor that might accommodate the laundry
• Install handrails in bathrooms
• Install seats in shower or tub areas to lessen the chance of falls
• Ramp areas that have steps allowing for easier entry into the house
• Install raised toilets
• Install raised or higher kitchen and bathroom counters
• Recommend the use of an in home care provider to assist with the following:
– Hygiene Assistance
– Meal preparation/Diet monitoring
– Light housekeeping
– Errands and Shopping
– Joyful companionship
– Respite for family caregivers
During the journey with my mother I learned , although all of the above are excellent suggestions , sometimes it is just not enough. When agonizing over our mother's dilemma, a health care provider used the following analogy. We would not make a decision for our children that would place them in danger. We owe the same to our parents. Sometimes just wishing isn't enough. In the name of love we must make the decision that will provide t he safest and highest quality living environment.

Mary Schricker, SRES, CSA is a Senior Real Estate Specialist and Certified Senior Advisor with Ruhl&Ruhl Realtors.
Filed Under: Family, Health & Wellness
Tags: Commercial Break, Companionship, December Snow, Hanging On The Wall, Home Care Provider, Hostage, Light Housekeeping, Love Stories, Meal Preparation, Necessary Adaptations, Quality Care, Respite, Ruhl, Sappy Christmas, Seniors Real Estate, Sense Of Security, Serious Medical Condition, Snow Storm, Sres, Tub Areas
Trackback URL: https://www.50pluslife.com/2011/01/03/in-the-name-of-love/trackback/