January 3, 2011
On the Go With Joe Hutter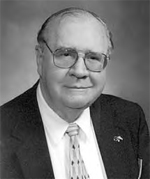 Seniors And Law
Enforcement Together (SALT)
By Joe Hutter
Yes another year is gone. How long they lasted when we were in school, and how fast they go now! Happy New Year to you and yours!
Recently, many of you received a letter from the National Law Enforcement Officers' Memorial Fund asking for a donation for the National Law Enforcement Museum. Just for your information, the Law Enforcement Memorial is on E Street, between 4th and 5th Street in Washington, D.C. One law enforcement officer is killed every 53 hours. Thanks goes to those both in law enforcement and the military who keep us safe.
I recently saw a card that came from long time Scott County Sheriff Deputy Rodger Sampson. Rodger used puppets in the Pleasant Valley Schools to teach children about drug abuse. Rodger was a deputy for over 20 years in Scott County.
Many of you got gift cards for Christmas. The Attorney General's Office has given tips for consumers on gift cards. Now in Iowa, a card must have an expiration date and cannot expire for at least five years. The holder of the card can no longer be charged an inactivity fee for at least one year of non-use. Ask questions at the business if you need to know more.
If you live in Iowa, you can file a complaint to the Consumer Protection Division in the Attorney General's Office at 1-888-777-4590.
The Seniors And Law enforcement Together (S.A.L.T.) will be meeting on January 26th at 9:30 a.m. at CASI. You do not need to live in Iowa to come to an information meeting of the group. No dues or fees are collected. Everyone is invited, both freshmen and seniors! For more information, call Pam at the Scott County Sheriff's Office at 326-8217.
Take care.
Filed Under: Community
Tags: Consumer Protection Division, County Sheriff, Drug Abuse, Enforcement Officers Memorial Fund, Expiration Date, Freshmen, Gift Cards, Happy New Year, Hutter, Inactivity Fee, Law Enforcement Memorial, Law Enforcement Officers Memorial, Least Five Years, National Law Enforcement Officers Memorial, National Law Enforcement Officers Memorial Fund, Pleasant Valley Schools, Puppets, Sampson, Sheriff Deputy, Time Scott
Trackback URL: https://www.50pluslife.com/2011/01/03/on-the-go-with-joe-hutter-16/trackback/