February 2, 2011
In and Out of the Quad Cities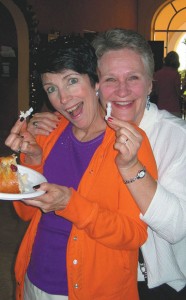 Contributed by Gail McPike and Toni Hall
They say you are what you eat, and after the past few weeks of soaking up a QCA January, we're feeling like we've been on a steady diet of ice cubes and popsicles. We've endured snow, sleet, hail, subzero weather and all the nastiness old Mother Nature has to share with her mortal subjects.
For the record; we QCA'ers come from some hearty pioneer stock. We whistle while we work and smile while we suffer through hardships. We can exchange neighborly pleasantries while our teeth chatter and rattle. But, something is happening to your stalwart In and Out reporters. Maybe it's our Oklahoma roots, perhaps there's something in Boozie Burger secret sauce or maybe we're getting soft in middle-age – but we are finding we have to get way out of the Quad Cities.
So rather than continue to exalt the joys of low mercury living, allow us to share a true confession. We feel better about winter when we can get a short blast of sunshine. Every January we head to the sunny shores of Mexico. Current Trophy Husband (CTH), Frank, tells everyone he is in search of the final resting place of Emiliano Zapata. We're not too sure we even know who Señor Zapata is, but reportedly – he was the Robin Hood of Mexico. Unless the good Señor was laid to rest in a beachside tiki-bar, we are darned sure that Frank will never find him. Now back to our story.
This year we made a trip to Cozumel Mexico. Before you start thinking "swimming pools, movie stars, Paris Hilton and Robin Leach's lifestyles of the rich and famous," let us give you the full story. Mexican vacations are the last deal on the planet. The combination of bad publicity, US recession and great exchange rates make Mexico as affordable as a trip to Paducah – really.
The worst part about the trip is the 6 AM departure from the QCA airport. For those of you who have not flown for a while, a 6 o'clock flight means you must be at the airport by 5 AM. Working backwards from there you can imagine – leave home by 4:45 AM. Add time to shower, pretty ourselves up and wrestle our hubbies out of a sound sleep and it's a 3:30 AM alarm. Have you ever gotten up at 3:30 AM? The whole world seems a bit off kilter at that time of day. And it's cold. One of those old Ralph Stanley hillbilly songs says something about the cold, cruel light of dawn – 3:30 AM is worse. But, once on board that big airliner, things take a turn for the better.
Our plane touched down at the Cozumel International Airport – possibly the smallest international airport in the world – at 2:20 PM. It's tropical, sunny, steamy and bright. We find ourselves immersed in a world of bright colors, clear Caribbean water with 100 shades of blue. Even from the airport you can hear a kaleidoscope of sounds – people talking, street vendors, horns, Mariachi bands and the ever present sound of cars honking in the distance. As un-
scientific as it sounds, Mexican traffic flow is lubricated by the sound of the horn blast.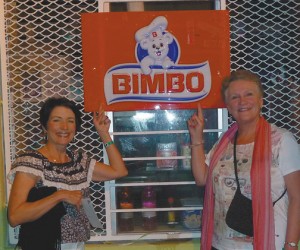 We are strangers in a strange land – and ready for adventure. Rather than provide Super Bowl style play-by-play vacation coverage, we want to share just two stories. Both of them have a local twist.
First, Quad Citians are everywhere. One day we rented a car to cruise around the island. Our plan was to see the native beauty of the undeveloped side of the island – you know stuff like beaches, jungles, wild birds and hungry iguanas. Before we head out of town, we stop to pick up picnic supplies. Just a bit larger than a local store, the store has everything in groceries. Because everyone in our group of six is working on their own schedule, we find ourselves in the front waiting for the stragglers.
In the rush and din of the activity, we notice a couple wearing Iowa hats and University of Okoboji t-shirts. We comment on their hats and discover they grew up in Davenport and spend a great deal of the winter in Cozumel. One thing leads to another, and before we know it the car is headed to their condo. We discover friends in common, one of them being a colleague of CTH Phil. After spending a half hour trading stories, we head for the palm trees and beaches.
The very next day, we decided to take the ferry from Cozumel, which is an island, to the mainland. The boat departs every hour, early morning to midnight, plying the 17 mile stretch of choppy seas. Because there are no bridges, this is the main avenue for shopping, visiting relatives and commerce in general. We see hundreds of people carrying everything from toddlers to tires. This line to catch the next ferry resembles a tropical Grand Central Station; crowded, noisy, bustling.
As we ankle our way along the dock, Iowa seems like a distant memory. Then Gail notices someone who looked like a friend's daughter. It was a double take moment. Wow – those people look like… no they are… We are standing in line behind our greater QCA/Muscatine friends, The Estabrooks – simultaneous vacations – same days, same island. We share hugs, chat on great snorkel diving spots and the latest in Lion-fish hunting. It was like a fairy tale; or should we say, ferry tale?
Every good fairy tale has ends with a moral and a happy ever after. This is no fairy tale but we noticed a couple of points and dawgoneit our momma taught us to share. So here we go! First, our great QCA home has a global presence. It's hard to go anywhere and not discover a fellow Quad Citian. Finally, you better be good, because you can never tell when you might see a neighbor. Have a great February – and Happy Valentines Day.
Tags: Bad Publicity, Boozie, Cozumel Mexico, Final Resting Place, Great Exchange, Lifestyles Of The Rich And Famous, Mcpike, Mercury Living, Mexican Vacations, O Clock, Oklahoma Roots, Pioneer Stock, Qca, Quad Cities, Robin Leach, Snow Sleet, Steady Diet, Sunny Shores, Trophy Husband, True Confession
Trackback URL: https://www.50pluslife.com/2011/02/02/in-and-out-of-the-quad-cities-16/trackback/