February 2, 2011
Leaving a Legacy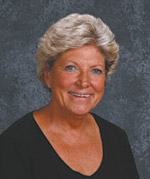 By Mary Schricker
Realtor – Ruhl & Ruhl Real Estate
Winter seems to be a time when we slow down; a time to do many of those things that we are not motivated to accomplish in the other seasons when the daylight hours are longer. It is a perfect time to go through attics and basements to begin sorting the many items we have accumulated over the years and no longer use. I also look at it as a great opportunity to leave a legacy.
As you go through your belongings start designating items you want to pass on to family and friends. Consider possible gifts from all of your treasures both small and large. You might pass on your favorite books to a family member who enjoys reading. You could give your children the books they loved when they were young. Think about passing down to your daughter or granddaughter some favorite pieces of jewelry you no longer wear. Or you may want to give your sporting goods or tools that lay unused to your son or grandsons. The key is to designate those no longer needed belongings to the special people in your life and then to tell them individually why the item was important to you. Let them know that you selected this gift just for them.
Another great cold weather activity is to journal or record for friends and family the adventures of your life. I am saddened that many of the wonderful stories our seniors have, that are integral parts of their lives and our history, are untold and often go to the grave with them. Include detailed facts about your life as a child. Pass on the challenges of your life as a teen, your experiences as a young adult, and the struggles you encountered as you journeyed through life. This journal will become a treasure for family members to pass on for many generations to come.
Over the winter those long indoor hours can be productive and the end result will be a far less cluttered house and a sense of connectivity to family and friends. You will have shared a bit of your history with them, and they will have both tangible and intangible memories to hold forever in their hearts.
Mary Schricker, SRES, CSA is a Senior Real Estate Specialist and Certified Senior Advisor with Ruhl&Ruhl Realtors.
Filed Under: Family
Tags: Attics, Basements, Belongings, Cold Weather Activity, Connectivity, Daylight Hours, End Result, Family And Friends, Family Member, Family Members, Favorite Books, Granddaughter, Grandsons, Leave A Legacy, Leaving A Legacy, Many Generations, Perfect Time, Realtor, Seniors, Young Adult
Trackback URL: https://www.50pluslife.com/2011/02/02/leaving-a-legacy/trackback/