February 2, 2011
Staying Connected to Grandchildren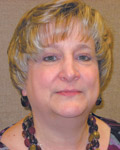 By Pam Haumann
Director of Programs
Child Abuse Council
Valentine's Day is just around the corner. It is a time for telling friends and family what they mean to us and how much we care about them. We send our love, complete with hugs and kisses (XOXOXO) candy and bouquets. For grandparents, this can be a difficult time. According to a 2002 AARP report, more than 50% of grandparents live more than 200 miles away from their grandchildren.
Relationships with children are much like caring for plants, they need nurturing. When you live close, these relationships develop naturally through activities and the time you spend with them, but how do you keep close and stay connected when the grandchildren are far away?
An age old method of communication that still works is letter writing. Children love to get mail addressed to them. Even if your grandchild(ren) are not old enough to read and write, their parents can read to them and write a response dictated by the child. Writing letters gives your grandchildren an opportunity to get to know you better. Talking about your own childhood experiences and things you remember from your childhood lets your grandchild begin to know you as a person.
Telephone calls can also be an effective way to stay connected. There is still truth in the saying, "I'm only a phone call away." Talking to your grandchildren and asking them about their day or recent events and activities in their lives, lets children know that you care about them and what they're doing. Relationships are based on social interactions with
others. Infants and toddlers readily respond to voices and soon recognize that the familiar voice on the other end of the phone is grandma or grandpa.
For those who may be comfortable using a computer, email allows you to share even more words with your grandchildren at a fraction of the cost of a long distance telephone call. It is also a great way for you both to share photos. Using email, children can share with you such things as their latest work of art or report cards. If you and your grandchildren have access to webcams, you can see and converse with one another in real time using Skype.
If you really want to connect with your teenage grandchildren, make sure they become your friend on Facebook. Facebook is a social media phenomena for all ages. It provides instant access for sending and receiving messages, pictures and videos. But remember, the whole world might be watching.
Of course, don't forget about using your cell phone to text your grandchildren. You may be one of their BFFs (Best Friend Forever) and not know it. Short, cryptic messages once a week will let your grandchildren know that they are in your thoughts.
If you are interested in something interactive for younger grandchildren, try videorecording yourself reading a bedtime story to them. Remember to hold the book up to the recorder so they can see the pictures as you read and turn the pages.
For more information about the Child Abuse Council's prevention and education programs, you can visit us at www.childabuseqc.org or contact me personally at pamh@childabuseqc.org.
Pam Haumann is Program Director, Parent Support Services at the Child Abuse Council. She can be reached at (309) 786-1466 or at pamh@childabuseqc.org.
Filed Under: Family, Health & Wellness
Tags: Aarp, Bouquets, Child Abuse Council, Child Writing, Childhood Experiences, Grandchildren, Grandma, Grandpa, Grandparents, Hugs And Kisses, Infants And Toddlers, Letter Writing, Long Distance Telephone, Love Mail, Share Photos, Social Interactions, Telephone Call, Telephone Calls, Valentine S Day, Writing Letters
Trackback URL: https://www.50pluslife.com/2011/02/02/staying-connected-to-grandchildren/trackback/