March 2, 2011
On the Go With Joe Hutter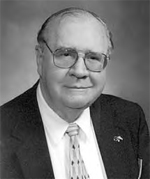 Seniors And Law
Enforcement Together (SALT)
By Joe Hutter
Last month's warm weather was welcomed by all!
If you are looking for something fun to do, Retired and Senior Volunteer Program (RSVP) is for you! RSVP is a federally administered program for persons over the age of 55 years. People volunteer to meet community needs and provide enriching experiences for those who are served. It could range from helping children learn to read, to working with seniors at CASI or working with the Alzheimer's Association. It is time to get out of the house and volunteer. For more information in either Iowa or Illinois, call (309) 793-4425.
Members of our Triad group include members of the Davenport Police Department, Bettendorf Police Department and the Scott County Sheriff's Office. If you would like a program at your senior center or club, call Pam at the Scott County Sheriff's Office at (563) 326-8217 to schedule your program.
The Iowa Attorney General's Office sent out an advisory letter about "Tax Refund Anticipation Loans" (RAL). RAL is a loan borrowed against and secured by a taxpayer's expected tax return. The truth is that the loan burdens taxpayers with large finance charges and tax preparation fees. The cost of the loan could be between $30 and $100. Interest rates could be as high as 49 percent.
If you use E-Filing and direct deposit, generally you get your refund in eight to 15 days. You can get free income tax service if you are low or moderate income along with seniors and the handicapped. Call 1-800-906-9887 for more information.
On March 31 there will be the Senior Expo at the Waterfront Convention Center in Bettendorf. It starts at 9 a.m. and ends at 5 p.m. See you there!
Take care.
Filed Under: Community
Tags: Advisory Letter, Bettendorf Police Department, Burdens, County Sheriff, Davenport Police Department, Direct Deposit, E Filing, Finance Charges, Helping Children, Hutter, Iowa Attorney General, Moderate Income, Refund Anticipation Loans, Something Fun, Tax Preparation Fees, Tax Refund Anticipation Loans, Triad Group, Volunteer Program, Warm Weather, Working With Seniors
Trackback URL: https://www.50pluslife.com/2011/03/02/2230/trackback/