March 2, 2011
Change is the Law of Life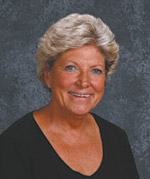 By Mary Schricker
Realtor – Ruhl & Ruhl Real Estate
"It is not the strongest of the species that survive, or the most intelligent, but the ones most responsive to change."
As a Seniors Real Estate Specialist I often discuss with clients the pros and cons of downsizing. The fear of the unknown, however, often overpowers the voice of reason in the decision making process. Change becomes both a physical and emotional challenge.
Sorting through the options available becomes an emotional dilemma. Depending on their age and health, my clients must decide if they are merely downsizing to another single family home, a condo, or a senior living complex. There is a certain amount of independence surrendered in any of these decisions, and that is often the roadblock that must be overcome.
It is always better if the lines of communication are kept open between spouses and other family members. I have heard repeatedly from both seniors and their children that the "other one" doesn't want to discuss it. Often one or the other is afraid to approach the subject even though fears and concerns occupy their thoughts. More often than not, rather than face the truth, the seniors just stay where they are until they are forced to move due to health concerns or the death of a spouse. When that happens decisions are often made under duress.
The physical challenge of moving becomes increasingly difficult as seniors age and is often much more burdensome on family members. Allowing the search and move to a new home to be a co-operative effort among family members is certainly more desirable.
I have helped many seniors in the past decade relocate to a new residence. The process of downsizing and moving their life and possessions is not without stress; however they are more often than not very glad that they have made the transition. When they are settled into their new home, they realize that even though they have moved on they have brought the memories with them.
"Change is the law of life, and those who look only to the past or present are certain to miss the future." John F. Kennedy
Mary Schricker, SRES, CSA is a Senior Real Estate Specialist
and Certified Senior Advisor with Ruhl&Ruhl Realtors.
Tags: Death Of A Spouse, Decision Making Process, Dilemma, Duress, Emotional Challenge, Face The Truth, Family Members, Fear Of The Unknown, Fears, Health Concerns, Memories, Physical Challenge, Possessions, Pros And Cons, Realtor, Relocate, Roadblock, Seniors Real Estate, Single Family, Voice Of Reason
Trackback URL: https://www.50pluslife.com/2011/03/02/change-is-the-law-of-life/trackback/