March 2, 2011
Max's Musings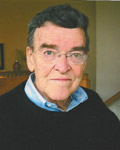 By Max Molleston
Mary Tryon, a New York poet, submitted to a Mississippi Valley Poetry Contest some years back, but did not win. As chairman, I would select good poetry like Mary's, write about it, and send my opinion and the poem(s) to the poet. Mary began to write poems in 2007. I don't recall why. Many times a death in the family will provoke a poem if rhyming skills are present. From those years to now, may Tryon's skills produced a book of poems, nicely printed and handled by a print shop. Of some 30 poems, most of which rhyme, one separated from the others as different, strong, varied, and a poem lots of us would like to claim we could write. Mary titled the poem…
"My Sister's Hands"

My sister's hands are still now
Their earthly work is done.
She's put away her travails here
and gone to meet the sun.

She was only four feet tall
But she cast a giant shadow.
Her hands were always making things,
Making things for those she loved.

She knitted many a little hat
for little heads to wear.
She made many a birthday cake
And frosted it with care.

She helped me raise my family
And surrounded them with love,
And I remember her little hands
Doing things that showed she cared.

She grew tired after all the years
And now she is at rest.
But still I see her little hands
Just like a little girl's.
I spoke with Mary in late January about the poem and how I felt it could be longer but did not need to be. I worked on "Heaven On The North" some years back and a poet friend told me to expand what was then a poem with eight stanzas into eight longer poems. I did some work to that end, finally moving to one "stand out" stanza questioning about a number of graves (which I do not know to this day). I added to that poem a few years ago, reinstalling a four line phrase I felt did not belong in the initial effort and finished in 1989.
Most of the poems Mary Tryon included in her initial book are fewer than the 20 lines in "My Sister's Hands." Mary told me she looked down at her own hands and out came the verses. If you've read past some facts, Mary's sister was of dwarf's proportions. Except for a reference to height, "little hands" and "little girl's hands," Mary's poetic pathway was to reveal and raise impressions of her sister's reliance on energy and good will to convert her "small" challenges to a love of helping hands, no matter the size.
When Mary and I began our messaging in letters and phone calls, she was 78. Now at 82, she has authored a book of poetry. She inhabits the town of Nassau in Rensselaer County, New York. Mary said recently she had dried of sources for her poetry, and via phone, read her latest, which is a longer poem reflecting loss. She shows "plus 50-ers" CAN DO. Emotions can gear up and make minds grab an idea and get it accomplished, or get the help we need to "git 'er done." As winds shift and skies clear and warm breezes help us realize that potential, we can. Plenty of help out here to make things like poetry work.
Flowers of Spring might take part in our April column. We are always thankful for your attention. Read us then!
Filed Under: Community, Personal Growth
Tags: Birthday Cake, Book Of Poems, Death In The Family, Four Feet, Giant Shadow, Good Poetry, Initial Book, Initial Effort, Little Hands, Little Hat, Mississippi Valley, Musings, Poem Poet, Poetry Contest, Print Shop, Rhyme, Stanza, Stanzas, Travails, York Poet
Trackback URL: https://www.50pluslife.com/2011/03/02/max%e2%80%99s-musings-19/trackback/