April 3, 2011
Bettendorf Health Care Center Provides Quality Care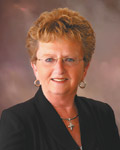 By Diana Spranger, R.N.
Administrator
Bettendorf Health Care
This month I will celebrate 13 years here in Bettendorf at the Care Center. I can't even begin to tell you of all the dramatic changes that have gone on in that period of time. We have had two complete decorative face lifts in that time, all new furniture a couple of times, and we are continually applying fresh paint to resident rooms and common areas. It's no different than living at your house, each day that passes, you see little marks and scratches, scraped paint/wallpaper that needs updated and changed. It's no different here, except we are just a much bigger house. We do our very best to keep the facility in a living condition that is safe and a pleasant place for our residents to be proud to call home, whether short term or long.
Over the last few years, nearly all of our tile floors have been carpeted, bathrooms have been updated, and they have new ceramic tile. We not only have nicely designed bath areas, but also have a wonderful whirlpool bath.
Just recently, we have more than doubled the size of our therapy gym, which we will highlight in an upcoming issue in more detail. It is vital for us to maintain the highest quality of services for rehabilitation due to the high demand for short-term rehab. More than 95 percent of our admissions come to us following surgery or serious illness to get assistance with rehabilitation and to return home. This is very exciting for us. The face of health care for us has changed dramatically over the past few years. Residents come to us much sicker than ever before due to the shortness of the hospital stay. The population seems to be younger, and the long-term residents are living longer.
Our population and surroundings may have changed over the past few years, but one thing that I'm happy about is that our mission and goals have not changed. We are determined to care for our residents with the highest regards for their dignity and provide quality care and services. We trust that you remain healthy and never require our services, but if that should arise in your life, we trust that you think of us and give us serious consideration. We are extremely grateful to all those who have entrusted their loved ones to our care over the years.
Until next month, enjoy Spring…
Filed Under: Community
Tags: 13 Years, Bath Areas, Ceramic Tile, Diana, Dignity, Dramatic Changes, Face Lifts, Fresh Paint, Health Care Center, New Furniture, Period Of Time, Quality Care, Rehab, Scratches, Spranger, Surroundings, Term Residents, Tile Floors, Whirlpool, Whirlpool Bath
Trackback URL: https://www.50pluslife.com/2011/04/03/bettendorf-health-care-center-provides-quality-care/trackback/