April 3, 2011
In and Out of the Quad-Cities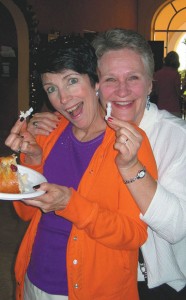 Contributed by Gail McPike and Toni Hall
A hardy, happy Spring to all of our friends out there in 50-plus land. It's officially spring based on all the calendars. We have all sprung forward with daylight savings time. As we capture a few words on the season, the flowers are starting to poke their little heads up out of the once frozen dirt, and the trees are forming leaves. Our own thoughts are turning to some of those rites of passage that mark this joyous season.
A few weeks ago, Current Trophy Husband (CTH) Phil was enjoying his annual time off for Spring Break down at the local college, and we decided to take a road trip. Milwaukee was on our radar screen. For those of you who haven't visited Wisconsin's largest city, allow us a couple of moments to acquaint you. Milwaukee is one of those grand old cities from America's past. Vibrant, historic and very ethnic – it's the home of a dozen or so festivals celebrating everything from Polish and German Heritage to the annual passage of summer. They have a beautiful festival grounds built right along Lake Michigan. There you find scenic beauty and grand scale architecture concentrated in a small area sandwiched between downtown and the lake.
We could spend hours listing all the cool things to see and do in this city, which is located just a short three-hour drive away from our door. But instead, we wanted to focus in on something that signals spring – the beginning of ice cream season.
Located on the largely blue collar south side of Milwaukee lays a timeless spot called Leon's. Remember the 1970's hit TV series Happy Days? It was set in Milwaukee and based on the adventures of a group of happy-go-lucky teenage friends in the 1950s. Richie Cunningham, Potsie Webber and the very cool Arthur "Fonzie" Fonzarelli all found solace in hanging out at Arnold's Drive In. Arnold's was loosely based on one of the writer's teen experiences at Leon's. Loosely may be the key word in that last sentence – read on.
The real Leon's lacks indoor seating and that ever playing jukebox Fonzie was fond of thumping. But what it lacks in Arnold-style amenities, it makes up in vintage old style charm. Driving up to the place is like a trip back in time. There are gaudy colors and neon signs lauding the world famous frozen custard blend. Remember when yellow florescent lights were used at every drive-in in America because they were supposed to repel mosquitoes? Leon's has yellow florescent by the bucket loads. Car-hop waitresses no longer zip through the cars on skates, but if you listen closely, you can almost hear the sound of the wheels against pavement.
But the real attraction to Leon's is the ice cream. Actually it's not the same kind of ice cream one normally thinks of coming from a joint like this – instead the stuff is a regional variety called frozen custard. We are not food analysis experts, but we QCA girls think the stuff must have about double the butterfat of your typical backyard mix. It's rich flavorful and mighty good even on a not so warm day in March.
But one need not trek out of state to enjoy an old-fashioned ice cream nostalgia trip. As we talked about this favorite summer time treat, CTH Frank rambled on about the Quad-Cities place in ice cream stardom. To be perfectly honest, we thought he was suffering from an overdose of double butter pecan, Leon's special, but a little research proved him right. We hesitate to admit it, but once more he wasn't fabricating his facts.
Here's the 'scoop' on the QCA's place in fast food history. In 1927, the founders of Dairy Queen, J.F. 'Grandpa' McCullough and his son Alex started the Homemade Ice Cream Company in Davenport, Iowa. They sold a variety of ice cream products throughout the QCA before moving the company to nearby Green River, Illinois (which we still consider to be QCA material) in order to expand their production. Grandpa McCullough experimented with the idea of a soft serve style ice cream for several years before perfecting the Dairy Queen blend.
The very first DQ opened in 1940 and wasn't located in the QCA – instead it was located in Joliet, Illinois. But a year later, a DQ was open in Moline, followed by one in Davenport the following year. By the end of 1942, there were a grand total of eight DQs in the world, and two were located in the Quad-Cities. How is that for a place in history?
Chances are no matter where you grew up there was a Dairy Queen nearby. By the middle 50s, Dairy Queens and their competitors had become as American as – well, apple pie slathered in ice cream. Think back to the golden days of nickel cones and 25 cent parfaits. Inflation and time have an effect on us all. No matter where you are, the trip to the ice cream stand is a short drive.
Today there are more than 5,700 Dairy Queens in operation in the US, Canada and 22 other countries. What's more every time you stop off for a summer time treat remember this – Warren Buffett the world's third richest man liked DQ's so much his Berkshire Hathaway investment group bought the company.
Have a great April, we're back to the chocolate shake already in progress….
Tags: Cool Things, Cth, Daylight Savings Time, Fonzie, German Heritage, Happy Days, Happy Spring, Joyous Season, Lake Michigan, Local College, Mcpike, Potsie Webber, Quad Cities, Radar Screen, Rites Of Passage, Scale Architecture, Solace, Teen Experiences, Teenage Friends, Trophy Husband
Trackback URL: https://www.50pluslife.com/2011/04/03/in-and-out-of-the-quad-cities-18/trackback/