April 3, 2011
Max's Musings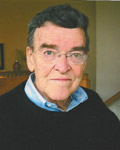 By Max Molleston
A couple of things this column will work with. Number one, it is Poetry Month. Another fact, not quite as unnoticed, and worthy is that the U.S. Civil War began 150 years in our past. Years ago I was challenged to produce a poem from letters produced from a lockbox in a Muscatine County bank. Dennis and Sue Runyon gave me the challenge, which turned into an opportunity. I first produced work stretched over four pages and 80 lines in stanza form. The past couple of years, I reconsidered the effort, reducing the lineage to 50, keeping the four pages, only half pages now. I titled it to humor speaker George Reichley. Most of the lines contain his words from letters to his wife from war front to Muscatine County.
Reichley Journeys to Civil War

Hundreds of miles from home he wrote
no more running about if I get home."
Home he came after hi hitch in the

Civil War, and died there at nearly 91,
fighting a last brief battle with illness.
Lonely and caring, Union soldier George Reichley

wrote from his camp at Brownsville, "got orders
today to go on a scout out in the country
about 100 miles that will take about

three weeks before we get back to this place,
but you must not quit writing. You do not need to be uneasy
if you do not get a letter from me for somet time. I dream so
much about the children being sick. I hope it is not true."

Letters folded in packets and uniform pockets and tied
within dresser drawers survived distance and difficulty
over long months into years. Near Memphis, June 15, 1864.

"I am well at this time and have been all summer.
Received your letter dated the 9th of June. Glad to get it.
I don't know whether I can send this or not.

I want you to hear from me is I can't hear from you,
but you must write. I suppose you are in need
of a good many things and have no money to

get anything with, and I don't think they will pay
me now until we get back from this trip. It is enough
to discourage a soldier when he can't get money to

Send to his family when he knows they need it
so much but you must try to get along some way. The longer
I stay away from you the more I want to see you.
I did not think I would have to stay three years
when I enlisted, or I would not have enlisted at all.
I would like to see you very much and take a good supper

and have a long chat about matters and things.
There is a good many things I would like to talk about.
Things look a little gloomy down here ths summer.

Old Gen. Grant is not here, and the Rebs is as bold
as devils but we have one good old General yet.
That is A.S. smith, our old Red river General.

We thought we had done our share this summer,
but it seems that there is not rest for the wicked…"
Camp of the 35th Regiment near Bear Creek

In Mississippi, Reichley writes, "Dear wife, I take
my pen in hand to drop you a few lines of love and affection.
To let you know I am well at present and hope this letter
may find you and all children well.

We got mail this morning, but there was none for me.
John Brookhart and Myself wrote one to David yesterday
and wrote one to Adam Reichley day before yesterday, and I wrote

One to Polly Overmeyer last week, and one to you on the 11th or
12th, I don't mind what day it was. So you see I write pretty
much every day. C.W. Reichley to C. Reichley."
There are dozens of books about the Civil War, and most are tied to President Lincoln and the Union struggle, then victory with Lee's surrender to General Grant. Get to your library first, then to your favorite bookstore to shop.
May flowers are due in this column next month. Please rejoin me here.
Filed Under: Personal Growth
Tags: 1864, Civil War, Dresser Drawers, Hundreds Of Miles, Journeys, Lineage, Lockbox, Many Things, Memphis, Money, Muscatine County, Musings, Pockets, Poem, Poetry, Runyon, Scout, Stanza, Union Soldier, War Front
Trackback URL: https://www.50pluslife.com/2011/04/03/max%e2%80%99s-musings-20/trackback/