April 3, 2011
On the Go With Joe Hutter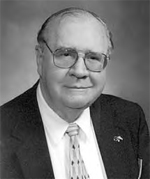 Seniors And Law
Enforcement Together (SALT)
By Joe Hutter
Spring is finally here, and with spring comes the person who will call you or stop by to fix something on your home. Remember…Do not pay before the work is done. Check with the Better Business Bureau or the Attorney General's Office.
Recently many of us got a check in the mail for $2.50 from "Help Hospitalized Veterans" from Winchester, California. Yes, they wanted the check back and a donation. Since 1971, they have supplied over 25 million craft kits free of charge to veterans. For every dollar you send them, 67 cents goes to
charitable program service, 29 cents goes to fundraising service and 7 cents of every dollar is spent on management and general expenses. They are non-profit but the local American Legion or VFW can use your donation too, and you get to meet the local veterans.
My other letter was from Publisher's Clearing House. They sent a letter or bulletin that includes an imminent prize winning opportunity for their biggest life-time prize ever – a million dollars immediately, then a million dollars every year for life. The letter did say that a bulletin sent to me will definitely have a major prize winner of $1 million! It will be someone in my T.V. area. They also stated that someone with the initials "J.H." is definitely going to be a winner. I wonder how they already know that!
Before you write a check for something you received in the mail, check it out. Always remember the United Way or the Red Cross can use your help!
S.A.L.T. (Seniors And Law Enforcement Together) will be meeting at 9:30 a.m. at CASI on April 27. You are welcome to join us! For more information, call Pam at the Scott County Sheriff's Office at (563) 326-8217.
Take care.
Filed Under: Community, Finance
Tags: American Legion, Better Business Bureau, Charitable Program, Check In The Mail, Check Mail, Check With The Better Business Bureau, Clearing House, County Sheriff, Craft Kits, Fundraising Service, Help Hospitalized Veterans, Hutter, Imminent Prize, Initials, Life Time, Mail Check, Prize Winner, United Way, Vfw, Winchester California
Trackback URL: https://www.50pluslife.com/2011/04/03/on-the-go-with-joe-hutter-18/trackback/