May 2, 2011
Creating a Peaceful Estate Plan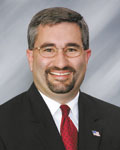 By Curt Ford
Nash Nash Bean & Ford
Carol always settled her children's disputes – from tiffs over toys when they were young to more recent quarrels over who would hold the power of attorney as Carol aged. So it was no surprise when her children went to war over her estate following her death. Her incomplete will left many decisions up to the children as a group – a set of four people who could never agree on one course of action – and divided assets in a way several of the children felt were unfair. Following Carol's death, the children spent their time in court arguing over their mother's estate rather than sitting around the dinner table recalling great family
memories.
Carol's family could have avoided this war and better honored their mother's life if she had completed some thoughtful estate planning. Even if you don't think your family would ever head to court over your estate, a well-crafted plan can ensure your family will spend years laughing not arguing.
How can your family avoid an estate war?
• Make sure your trust or will communicates your wishes in very clear and specific language. Vague language or poorly crafted documents may allow beneficiaries to argue over the document and its
execution.
• Properly fund your trust and list all of your assets so everyone knows exactly what is in your estate. When your trust contains all your assets, it steers your heirs to a clear plan of action.
• Communicate your wishes. Even though your trust or will clearly specifies how you wish your estate
to be divided, let your family know your plans in advance. The time immediately following a death is emotionally charged and a surprise in your estate plan can cause years of anger and disappointment in your family.
• Make a thoughtful plan for heirloom items. In many estates, the most argued over items are not property or financial assets, but pieces of great sentimental value. Clear communication on how to divide these items will save years of arguments and heartache.
• Review your plan on a regular basis to ensure your assets and beneficiaries have not significantly changed. While every three years is a good time period to review your estate plan documents, they also should be reviewed anytime you have a significant event in your family: marriage, divorce, birth or death.
With a few thoughtful steps, your estate plan can provide a legacy of great memories not an inheritance of anger and fights.
Nash Nash Bean & Ford are members of the American Academy of Estate Planning Attorneys and the National Academy of Elder Law Attorneys. To receive a copy of our most recent newsletter "Your Estate Matters" or for a free consultation on Estate or Long Term Care planning, call (309) 944-2188, (309) 762-9368 or 1-800-644-5345. You may also contact our firm by email at info@nashbeanford.com or visit our website at www.nashbeanford.com.
The firm devotes its practice primarily in the areas of estate, business and tax planning and related areas of the law as well as elder law and trust administration and probate. We offer guidance and advice to our clients in every area of estate planning.
This column is designed for general information purposes only, and is not intended, nor should be construed or relied upon, as legal advice. Please consult your attorney if specific legal information is desired.
Curt Bean is an attorney at Nash Nash Bean & Ford. He can be reached at (309) 944-2188 or (309) 762-9368 or at info@nashbeanford.com
Tags: Amp, Anger, Beneficiaries, Decisions, Dinner Table, Disappointment, Estate Planning, Execution, Family Memories, Financial Assets, Ford, Heirs, Nash, Power Of Attorney, Quarrels, Sentimental Value, Surprise, Tiffs, Toys, Vague Language
Trackback URL: https://www.50pluslife.com/2011/05/02/creating-a-peaceful-estate-plan/trackback/