May 2, 2011
Meet Tammie Kooi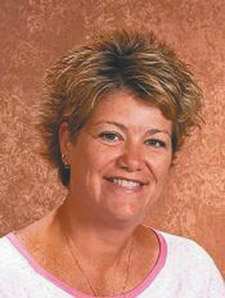 Honorary Survivor Chair for the 2011 Susan G. Komen Quad Cities Race for the Cure.
She was only 27 years old when she found a lump. With no family history of breast cancer, her doctor wasn't overly concerned.
But Camanche's Tammie Kooi didn't settle because she had a strong feeling that something was wrong.
"I urged my doctor to send me for a mammogram. You have to be your own advocate and go with what your heart and gut are telling you," said Kooi, who's now 48.
Kooi was diagnosed with an aggressive type of breast cancer in 1990.
"I wanted a lumpectomy at my age to keep my shape. They recommended a mastectomy. I had six cycles of chemo.
Obviously, the diagnosis was shocking. Our son was four years old," she said.
Following chemo, Kooi had a recurrence on her scar line, finding two lumps. One was removed surgically and the other was treated with radiation.
"And it worked," she said. "I've had nothing since."
For her survivorship and commitment to fighting breast cancer, Tammie Kooi is the honorary survivor chair for the 2011 Susan G. Komen Quad Cities Race for the Cure. Tammie participated in her first Race in 1991 with her sister and four friends, and she hasn't missed a Race since.
"The first Race was very emotional. It's always tough to see people struggling who have lost loved ones. I'm always touched to see all of the people who come out for the event," she said.
Over the past 20 years, Kooi has networked and developed a group of supporters—up to 120 people—that travel to Moline for the annual Race in two buses.
"Some of my regulars have been diagnosed with breast cancer," said Kooi.
She also has a unique "pink ribbon room" in her home.
"I started getting so many pink ribbon things, so I have them in a pink room. I have pictures frames, Isabel Bloom sculptures, Race day photos, pink Tic Tacs, Chap Stick, a mosaic flower pot, and a quilt made out of Race t-shirts," she said.
Kooi hopes that her role as honorary survivor chair delivers this message to women in the greater Quad Cities: "Although a diagnosis is life impacting, life can go on in a positive way."
The 22nd annual Susan G. Komen Quad Cities Race for the Cure will be held on Saturday, June 11, 2011, starting outside of the i wireless Center in Moline, Illinois. Online registration is available at www.komenquadcities.org.
Filed Under: Community, Health & Wellness, News
Tags: Aggressive Type, Breast Cancer, Chap Stick, Fighting Breast Cancer, Flower Pot, Four Friends, History Of Breast Cancer, Isabel Bloom, Lumpectomy, Mammogram, Pink Ribbon, Pink Room, Quad Cities, Ribbon Room, Scar Line, Strong Feeling, Survivo, Susan G Komen, Two Lumps, Type Of Breast Cancer
Trackback URL: https://www.50pluslife.com/2011/05/02/meet-tammie-kooi/trackback/