May 2, 2011
On the Go With Joe Hutter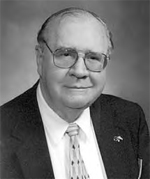 Seniors And Law
Enforcement Together (SALT)
By Joe Hutter
In the past, this column mentioned many times about watching your money and who you give it to. Recently over $2 million was stolen from three banks through wire transfer of money. Again, NEVER give your personal information over the telephone or by email to anyone. Even if they say they are from the F.B.I., I.R.S., Social Security Administration or your bank, do NOT give out your social security number, age, and date of birth or any other information over the phone. Check your money accounts often.
Now on to something that affects many people who ride River Bend Transit (RBT) buses. According to Randy Zobrist, the Director of River Bend Transit, due to increases in gasoline prices, which we all know about, and budgeting, River Bend Transit will be changing scheduling of buses. This will not reduce service in any way. This program has been providing service since 1978 and will continue with their service. Riders starting in mid-May will still call and give times when they need a ride, but the time they get picked up at their home, doctor's office or church will be within half hour of the time chosen by the rider. The RBT bus will take passengers to the Moline bus station where they can transfer to a city bus there to go to places in Rock Island, Moline or where Illinois buses will go. This will save money to avoid paying higher costs of the service. To get more information, call (563) 386-1350 or 1-800-292-8959. Sunday service is still available with the help of Generations, the local agency of aging. All buses are handicap accessible.
Again, I can't emphasize enough on avoiding becoming a victim of fraud. Don't give money to anyone unless you tell a son or daughter. There are still victims in the area who have sent money to someone who told them they were a grandchild in jail. If you give to a charity, give locally or call the Better Business Bureau and check out the charity.
If you think you are a victim, call the local police department or sheriff's office. Do not be embarrassed as they are there to help you and let other people know what happened so others avoid becoming a victim. With spring, beware of house repair scams. There will be more on this later.
If you need more information, call Pam at the Scott County Sheriff's Office at (563) 326-8217. You are always invited to attend our S.A.L.T. meetings at Davenport CASI.
Take care.
Filed Under: Community
Tags: Better Business Bureau, Bus Station, Buses, Charity, City Bus, Date Of Birth, Gasoline Prices, Generations, Home Doctor, Hour Of The Time, Hutter, Law Enforcement, Local Agency, Rbt, River Bend, Seniors, Social Security, Social Security Administration, Social Security Number, Victim Of Fraud
Trackback URL: https://www.50pluslife.com/2011/05/02/on-the-go-with-joe-hutter-19/trackback/