May 2, 2011
Try a Memory Builder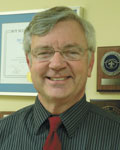 By Bob Morrison
Development Director of Ridgecrest Village
The secret to successful aging is ongoing mental stimulation.
Every 71 seconds, another senior is diagnosed with Alzheimer's disease, says Dan Michel, CEO of Dakim, the Brain Fitness Company. As a result, dementia represents the most severe threat to the quality of life of seniors.
The New England Journal of Medicine, the Journal of the American Medical Association, Neurology, Journal of Geriatric Psychiatry and Neurology, Annals of Internal Medicine all concluded that participation in cognitive activities was associated with a reduced risk of Alzheimer's disease, vascular dementia, and mixed dementia.
"The secret to successful aging is ongoing mental stimulation" says Paul David Nussbaum, M.D., Professor of neurology at the University of Pittsburgh School of Medicine in an address to the American Society on Aging.
Ridgecrest Village residents have partnered with Ridgecrest Foundation and our Residents' Council to try a program of rigorous cognitive stimulation using the Dakim Brain Fitness equipment. Residents have used this program with over 500 sessions in the last six months. Hear some of their enthusiasm…
Dorothy Smith says, "I definitely recommend this program for anyone interested in improving themselves. My mother's twin sister died of Alzheimer's. It makes me stop to think about things. I've learned better ways to remember names and lists of items. Plus it is really FUN!"
Mary Kalshoven believes, "I have good days and bad days. I use the brain fitness equipment because it opens up new ideas and gives me new challenges. I've learned you can't know everything but trying new things is healthy. My advice to others is 'Don't Give Up.' This program is not only fun but also good for your health!"
Joyce Tupper chipped in, "It helps you remember things and teaches one to pay attention to detail. It is great for short term memory. I've learned that when I make a silly story about a list of words, I can remember them. I am more aware of different objects included in a picture or people's specific features, even their names. I really do enjoy it."
The touch-screen is easy to use and the games are enjoyable. Every night at 11 p.m. new programs are automatically installed for the next day. The Dakim folks encourage three or four 20 minute sessions a week. Anyone who tries it is sure to get pleasure from the games and brain teasers. Contact any user here at Ridgecrest Village to ask questions or call me at (563) 391-3430. Once you enjoy trying the games, the process becomes easy to continue and becomes a real treat!
Filed Under: Health & Wellness
Tags: American Medical Association, Annals Of Internal Medicine, Bob Morrison, Brain Fitness, Cognitive Activities, Cognitive Stimulation, David Nussbaum, Dorothy Smith, England Journal Of Medicine, Fitness Company, Geriatric Psychiatry, Journal Of The American Medical Association, Memory Builder, Mixed Dementia, Neurology Journal, New England Journal, New England Journal Of Medicine, Short Term Memory, University Of Pittsburgh School Of Medicine, Vascular Dementia
Trackback URL: https://www.50pluslife.com/2011/05/02/try-a-memory-builder/trackback/