June 3, 2011
2011 Race for the Cure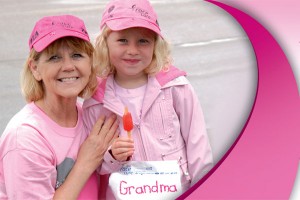 Susan G. Komen Quad Cities Race for the Cure Veterans
One out of eight women will get breast cancer over a lifetime. It could be your mother, wife, sister, daughter, neighbor, co-worker, friend….or it could happen to you. The Susan G. Komen Quad Cities Race for the Cure® is scheduled for 8 a.m. on Saturday, June 11 in Moline. Whose life are you running for?
Seven-year-old Haley Papke, shown on magazine cover, will be running for her grandma, Dulcie Farley, of Clinton. This will be Haley's fourth Race with her grandmother, who was diagnosed through a routine mammogram 4 years ago.
"I got a call the night before Halloween saying my mammogram didn't come back as well as expected," said Farley, 59.
A whirlwind of doctor appointments revealed that Farley had an aggressive stage one breast cancer.
"One-third to one-fourth of the breast was affected and doctors said the best option was a mastectomy," she said.
Farley had a mastectomy and now returns for regular 6 month check-ups.
"I never thought, Why me? I thought, Why not me? "
Farley says the support she got from others was heartwarming.
"People are wonderful. My husband told me that this wasn't just happening to me, that it was happening to both of us. He was with me all the way," she said.
Farley participated in the Komen Quad Cities Race for the Cure before her diagnosis. She'll be back again this year with her husband, mom, brother, sisters and grandkids alongside.
"Embrace everything. Embrace life," she said.
Please register today for the Race at www.komenquadcities.org. Up to 75 percent of the Race proceeds remain in an 8-county, bi-state service area to help local women pay for mammograms and life-saving services. The remainder goes to Susan G. Komen for the Cure for research to find a cure.
Filed Under: Community, Featured, Health & Wellness, News
Tags: Breast Cancer, Check Ups, Co Worker, Doctor Appointments, Dulcie, Grandkids, Komen For The Cure, Mammograms, Mastectomy, Night Before Halloween, Quad Cities, Race For The Cure, Race Proceeds, Routine Mammogram, Saturday June, Stage One, Susan G Komen, Susan G Komen For The Cure, Ups, Whirlwind
Trackback URL: https://www.50pluslife.com/2011/06/03/2011-race-for-the-cure/trackback/