June 3, 2011
Lactose Intolerance Does Not Have To Mean Dairy Intolerance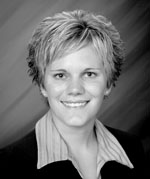 By Valerie Wheatley, R.D., L.D., L.D.N
Hy-Vee Registered Dietician
(309) 787-0273
You may have or know of someone who has lactose intolerance. But did you know individuals with lactose intolerance may still be able to enjoy dairy products? There are many misunderstandings and myths about lactose intolerance. With June being Dairy Month, it's a good time to review and examine some of the facts and new research on dairy and lactose intolerance.
Lactose is a sugar naturally occurring in milk and many milk products. The body needs lactase, an enzyme made by the body, to break down and digest lactose. Some people do not make enough lactase to break down lactose. This may cause gastrointestinal symptoms and disturbances after the consumption of lactose and is referred to as lactose intolerance. New studies have found people with lactose intolerance may tolerate up to 12 grams of lactose, the amount in about one cup of milk. The key is to start slow and gradually introduce lactose into the diet. Lactose intolerance is rare in children and usually will develop in late teen years or adulthood.
Avoiding dairy is often what is done to avoid symptoms, but dairy is a nutrient-rich food and important for many health benefits including improving bone health, helping with healthy weight management, possibly lowering the risk of certain chronic diseases and improving overall health.
The National Dairy Council recommends these six strategies to manage lactose intolerance and still receive the health benefits from nutrient-rich dairy products.
1. Reduce It – Choose lactose-free dairy products, such as Dairy Ease and Lactaid fat-free and low-fat milk, Lactaid chocolate milk and Lactaid calcium-fortified fat-free and low-fat milk.
2. Sip It – Introduce dairy slowly. Start by drinking a half cup of milk.
3. Stir It – Mix food with milk. Try oatmeal and cereals, soups, pudding, lattes or smoothies,
4. Slice It – Choose cheddar, Swiss or Parmesan, which are low in lactose.
5. Shred It – Top foods with shredded cheese.
6. Spoon It – Try yogurt. Active cultures found in yogurt help the body digest lactose.
For more information on how to manage lactose intolerance, talk to a Hy-Vee dietitian. The information is not intended as medical advice. Please consult a medical professional for individual advice.
Antipasto Skewers
Servings: 16
Prep Time: 45 minutes
Ingredients
1 (9 ounce) package cheese-filled tortellini, cooked al dente and cooled
? cup fat-free Italian dressing
8-ounce block reduced-fat Swiss cheese, cubed
2 cups baby spinach leaves
32 pieces turkey pepperoni
3 ? cups cherry tomatoes
16 wooden skewers (9- to 10-inch)
Preparation
In a large bowl, marinate tortellini in Italian dressing for 30 minutes in refrigerator. To assemble skewers, start with 2 pieces tortellini, 1 cheese cube, 2 spinach leaves, 1 pepperoni slice (folded in fourths), 1 tomato. Repeat again. (Each skewer will have total of 4 pieces tortellini, 2 cheese cubes, 4 spinach leaves, 2 pepperoni slices and 2 tomatoes.)
Repeat until 16 skewers are made.
Refrigerate until serving.
Nutritional Facts Per Serving
Calories: 107
Total Fat: 4g
Saturated Fat: 2g
Cholesterol: 19mg
Sodium: 307mg
Carbohydrates: 10g
Dietary Fiber: 1g
Protein: 7g
Calcium: 16% Daily Value
Valerie Wheatley is a registered dietician at Hy-Vee. She can be reached at (309) 787-0273.
Filed Under: Health & Wellness
Tags: Bone Health, Cereals, Chocolate Milk, Chronic Diseases, Dairy Intolerance, Gastrointestinal Symptoms, Health Benefits, Healthy Weight Management, Intolerance Lactose, Lactose Free Dairy Products, Lattes, Low Fat Milk, Milk Products, Misunderstandings, National Dairy Council, Oatmeal, Parmesan, Rich Food, Teen Years, Wheatley
Trackback URL: https://www.50pluslife.com/2011/06/03/lactose-intolerance-does-not-have-to-mean-dairy-intolerance/trackback/