July 6, 2011
Our Bix Lives!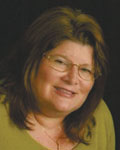 By Deb Williams
Oakdale Memorial Gardens
Blaring Band: Our Bix Lives! These words were the headlines in The Times Democrat on Friday August 6, 1971. It was the 40th anniversary of the death of Leon Bismark "Bix" Beiderbecke – and the birth of the Bix Jazz Festival.
The Times article quoted Rev. Christian H. Meyer, who delivered a eulogy of sorts, portraying Bix as one "…who became legendary before his death and whose legend swells and broadens since [his] death." During the eulogy, the band played Davenport Blues and later broke into renditions of At the Jazz Band Ball, Old Rugged Cross, and Louisiana before concluding with When the Saints Go Marchin' In.
And so it is that 2011 is the 40th anniversary of the Bix Jazz Festival . . . and thus the 40th anniversary of the 40th anniversary of Bix's death in 1931. Weather permitting, Oakdale Memorial Gardens will continue another 40-year tradition as we host a memorial concert at Bix's gravesite during the Bix Jazz Festival. And this year, the original band that played here in 1971 is back! The Bix Memorial Jazz Band will play at Bix's gravesite in Oakdale Memorial Gardens at 10 a.m. Saturday August 6, 2011 – exactly 80 years after Bix's death. As in years past, the band will be brought to the cemetery in antique cars.
Liz Beiderbecke-Hart shared with Oakdale that in 1901, Louise Beiderbecke purchased the family lot at Oakdale Memorial Gardens when her husband Charles died. (Louise and Charles were Bix's paternal grandparents.) At present, 19 members of Bix's family are also buried on this family lot, including Bix's grandparents, parents, brother, aunts, uncles, nephews and several cousins.
Also of note is the fact that Bix's uncle (and Liz's grandfather), C.B. Beiderbecke, was a sexton here at Oakdale Memorial Gardens from the early 1940s until retiring in 1966. Liz still remembers her grandfather sharing stories about Bix fans traveling from all across the globe to visit the musician's gravesite. This tradition also continues today, as we welcome visitors this year from Denmark and Germany.
Understanding the history of the Bix Jazz Festival has helped me better understand the importance of burying our loved ones. Everyone has a life story – and those stories need to be told. By assisting countless families in researching their family history here at the cemetery, I've also come to realize that we're really helping them tell the life stories of their family.
Deb Williams is the office manager of Oakdale Memorial Gardens on Eastern Avenue in Davenport.
She can be reached at (563) 524-3151.
Filed Under: Community, History
Tags: 1940s, 40th Anniversary, Antique Cars, Aunts, Bix Beiderbecke, Davenport Blues, Deb Williams, Jazz Band Ball, Jazz Festival, Leon Bismark, Memorial Gardens, Nephews, Oakdale, Old Rugged Cross, Original Band, Paternal Grandparents, Renditions, Sexton, Times Article, Uncles
Trackback URL: https://www.50pluslife.com/2011/07/06/our-bix-lives/trackback/