August 3, 2011
A New Normal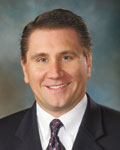 By David W. Deuth, CFSP
President, Weerts Funeral Home
Most are probably familiar with the common saying that goes something like this: "The only two certain things in life are death and taxes."
Indeed, among both generations and centuries, it seems that we can scarcely do more about one than the other.
When speaking to groups on various topics, I often interject a little statistic that has alarmed – and humored – many people: 10 out of 10 people die. Laughable, perhaps, on one side of the coin, it is a stark reality on the other.
That death is a certainty for each of us is the stark reality I witness daily as a funeral director. Unlike the well-known co-conspirator "taxes," death knows no boundary of income, socioeconomics, marital status or number of dependents. It can be neither mitigated nor avoided with the help of good advice or even good planning. Indiscriminate and universal with respect to age, gender, race, religion and ethnicity, death, we have come to understand, is as common as it is certain among mankind.
Linda's Dad died one year ago this month. Several times since, I have found myself caught off-guard when I see his pictures in our home. These photos can still whisk my mind into an earlier whirlwind of his cancer diagnosis, the numerous trips back to Minnesota, the eventual stroke that claimed his speech, the peaceful moment he slipped from the earthly into the heavenly, and the funeral events that celebrated his imprint on his family, his friends and his corner of the world.
For twenty-two years, I've found myself coaching and guiding families in their similar whirlwind experiences. Among the most basic elements following the death of someone close to us is the notion that we can never really be "the same." And yet, by honoring their lives and their memories, we create new and meaningful ways to find meaning in living without their physical presence…and this, in turn, helps us to find our "new normal."
We sure didn't pack away the pictures of Linda's Dad in a box since his death. On the contrary, we've placed several in prominent places so we DO see them each day. As we reflect, remember and reminisce on her Dad and his life, we've found that we laugh about some memories, and we still cry about some others . . . and this alone, unlike the proverbial "death and taxes" adage, creates neither a diminishing nor deflating effect, but rather an empowering experience as we honor his memory by learning to live a "new normal."
There sure isn't much any of us can do to change the reality of death and taxes.
But, we can choose to find a new normal . . . and Remember Well.
Filed Under: Family, Personal Growth
Tags: Basic Elements, Cancer Diagnosis, Centuries, Cfsp, Conspirator, Death And Taxes, Funeral Director, Gender Race, Good Advice, Mankind, Marital Status, Notion, Number Of Dependents, Peaceful Moment, Physical Presence, Pict, Several Times, Stark Reality, Statistic, Weerts Funeral Home
Trackback URL: https://www.50pluslife.com/2011/08/03/a-new-normal/trackback/