August 3, 2011
Looking to the Future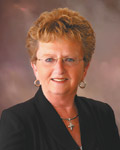 By Diana Spranger, R.N.
Administrator
Bettendorf Health Care
As I set to write this article, I do it with mixed emotions. For the better part of two years now, I have been working with the great people who work so hard to publish this magazine every month. It has been a wonderful experience for me. I was drawn immediately to the magazine because of it's diversity and bright colors on the cover; it's truly an "eye catcher."
Today, as I set to write the final article for me, I am filled with excitement for what the future holds for me. At the end of the month, I will be retiring from Bettendorf Health Care after 13 plus years. It's been a tremendous ride for me, and what a learning process. I've been in long-term care for 30 plus years and have loved it! I have made so many friends, it's seldom I leave the house that I don't see someone I have worked with over the past 30 years. I've met so many people in the facilities I've been involved with and so many along the way who truly care about the frail and elderly of Iowa and Illinois. The lessons I've learned are invaluable and I would not trade these past many years. Though I have a sense of excitement about the future, I will desperately miss the residents and staff here at BHCC and the peers that I rub shoulders with in the health care community.
In the next several years, I have no idea where life will take me, but I believe I still have much to offer. My future is not set in stone, but I do have a desire to continue to touch people's lives.
My thanks to Mike and Karen Mickle for all their help and patience with the monthly article; a special thanks to all those in the health-care field who have befriended me over the years, as well as the staff and management team at Bettendorf Health Care. Thanks to all the families and friends who entrusted us with the care of their family and friends. My sincere appreciation to Healthcare of Iowa for their support and the opportunity they granted me for the past 13 years to do what I love; care for people…
I will draw comfort from the fact that I am sure I will continue to see many of you from time to time and will continue to visit my parents as long as they reside at Bettendorf Health Care.
Until later, I don't know what my future holds, but I do know who holds my future………
Filed Under: Community, Retirement
Tags: Bettendorf, Bhcc, Bright Colors, Excitement, Eye Catcher, Family And Friends, Health Care Community, Health Care Field, Long Term Care, Looking To The Future, Management Team, Mickle, Mixed Emotions, Patience, Peers, Set In Stone, Shoulders, Special Thanks, Spranger, Tremendous Ride
Trackback URL: https://www.50pluslife.com/2011/08/03/looking-to-the-future/trackback/