August 3, 2011
On the Go With Joe Hutter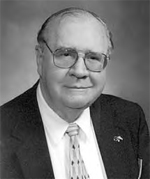 Seniors And Law
Enforcement Together (SALT)
By Joe Hutter
In past articles, I have mentioned different scams. Do you feel you have to send a donation to an organization that has sent you money? Have you got a nickel or two or three in the mail? You DO NOT have to send back the nickels or any money you receive, not one penny. More and more people are losing jobs or have medical problems and could use your help. How many local fundraising events have you seen in your town? Every weekend there is an event or organization that trying to raise funds. Be leery of the money or check you receive in the mail.
Recently, I received a check for $2.40 from the National Cancer Research Center. It stated on an attached form "Live Check Attached. Do Not Discard." This check is real, and you can take it to the bank right now, but the attached form also said that you can use this check to fight against cancer. Do you wonder why they didn't keep the $2.50 rather than send it to me? Well, they want the check back and $5 or more from me. The information said that more than 550,000 Americans will die from cancer this year. On the back of the letter, in small print, it did explain that 51.7 percent of the money goes to fundraising, 4.2 percent to research program services and 43 percent to public education. You can draw your own conclusions from the numbers.
There isn't a day that goes by, except Sunday, that there isn't someone asking for a donation. If you want to donate, there are runs or walks to raise funds locally for many organizations. I encourage you to think about your church, school, the Red Cross, the Alzheimer's Association and many others.
If you get a check in the mail, just remember people or organizations don't give away money. There is a catch. Fake checks are sent in the mail, and if you cash the check and have to send some of the money somewhere else, you will be on the hook for that check.
If your group would like a speaker from a local law enforcement agency, call Pam at the Scott County Sheriff's Office at (563) 326-8217. All area departments would like to attend your meetings and answer your questions about what you can to do be safe and what to be aware of in your community.
Take care.
Filed Under: Community, Finance
Tags: Alzheimer Association, Alzheimer S Association, Cancer Research Center, Check In The Mail, Check Mail, Checks, Conclusions, Fundraising Events, Hook, Hutter, Law Enforcement, Medical Problems, National Cancer, Nickel, Nickels, Public Education, Red Cross, Scams, Seniors, Sent Mail
Trackback URL: https://www.50pluslife.com/2011/08/03/on-the-go-with-joe-hutter-22/trackback/