August 3, 2011
PUBLISHER'S CORNER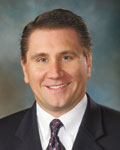 By David W. Deuth, CFSP
President, Weerts Funeral Home
Flooding and heat waves and road construction, oh my! The summer of 2011 has indeed been memorable in many respects.
If you ask most Midwesterners about the "dog days of summer," most would probably say that this occurs in late July and into August.
Ask any kids what August means to them, and they'll typically bemoan that it's time to head back to the books. As classes get underway in most area schools this month, the driving public should remember that students and school buses will once again be out in full force on our area roadways. And with a significant number of major road construction projects still in the works throughout the entire Quad Cities area, we will all need to be alert as we're driving out there – especially so in the school zones.
School buses deserve special consideration on our roadways. Bus drivers are responsible for the safe operation of a large vehicle while overseeing and transporting some pretty precious cargo – our students. As a school bus driver myself for three years during my college days, I have a special respect for these drivers and the special work that they do!
Whenever you see a school bus, be sure to remain alert and be prepared to stop when the amber lights begin to flash. When the red lights are flashing and the stop arm is extended, motorists on either side of the stopped school bus MUST stop until the flashing lights are off and the stop arm has been retracted. Anytime a school bus is stopped and the red lights are flashing, it means that a student is moving on foot nearby.
Also, remember that the Crossing Guard will be out near intersections where students must cross the road on their way to and from school each day. School zones have reduced speed limits for drivers when school is in session, so be prepared for those reduced speed limits to become effective again as classes get underway.
And, as the road construction continues, all motorists are reminded to be cautious in these work zones, too, as construction workers are often working right near the traffic lanes. (Growing up in Minnesota, we always joked that there are really only two seasons there: winter…and road construction!)
As we roll into the dog days of summer and the beginning of another school year, let's be extra safe on our roadways!
Filed Under: Community, Health & Wellness
Tags: Bus Drivers, Cfsp, College Days, Dog Days, Flashing Lights, Full Force, Heat Waves, Intersections, Major Road Construction, Motorists, Precious Cargo, Publisher, Quad Cities Area, Respects, Road Construction Projects, Roadways, School Bus Driver, School Buses, Speed Limits, Weerts Funeral Home
Trackback URL: https://www.50pluslife.com/2011/08/03/publisher%e2%80%99s-corner-8/trackback/