August 3, 2011
Will You Help "Fern?"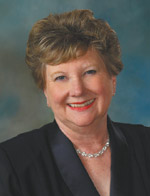 By Dee Deuth, CSA
Weerts Funeral Home
Please join me and others in the Quad-City Area as we "Walk to End Alzheimer's" on September 10, 2011.
There it was again, starting so very softly. That sound of a songbird, escalating to the harsh sound of a crow. Fern was coming back down the hall to find me. Again. There she stood at my nursing home office doorway. "Please take me home, so I can get supper for my children. They need to eat," she pleaded. We had gone through this many times already this evening; each time, I'd walk her back to her room and visit with her about her family, help her set her "table" and give her a doll to hold in her arms.
Driving home in the darkness, I was overcome with questions. Why, by some ill twist of fate, was Fern so concerned about her children as youngsters, yet didn't recognize them as adults? Why was she locked in a time capsule of the past, unable to reconcile with her current environment? Why did she think I was her mother, her refuge, when she was also concerned about her children as young and needing her care? Why?
The whys continue to plague me. Why can't they find a cause and a cure for the insidious disease known as Alzheimer's Disease? Why are so many people stuck in their own "time capsules," struggling to find peace in the foreign world around them? I think about the families, adult children who lose a parent long before their death.
Fern has gone to her eternal reward. But the numbers of those affected continue to grow. Researchers are making some breakthroughs, but it is costly and time consuming. All the while, the clock keeps ticking for these patients and their families.
Will you help the many "Ferns" and their loved ones who struggle with this disease? Yes, you can actually do something to help! Please join me and others in the Quad-City Area as we "Walk to End Alzheimer's" on September 10, 2011. Registration begins at 8 a.m. at the iWireless Center in Moline with the two mile walk beginning at 9 a.m. The walkway area is paved so you can push a wheelchair or a stroller.
Form a team with your family, grandchildren, friends, card club, coffee bunch or co-workers. Raise some money as a team to turn in before the walk begins. Every dollar will help us meet our $85,000 goal with special activities for children.
For additional information and instructions, please call Linda White at the Alzheimer's Association in Davenport at (563) 324-1022. I will be so happy to see you participating that day, and you will feel great for doing so. TOGETHER WE CAN MAKE A DIFFERENCE!!! Please CALL LINDA today – you'll be glad you did! And THANK YOU for participating!
Dee Deuth, CSA
Dee Deuth, CSA is a Pre-Arrangement Specialist and Family Care Director at Weerts Funeral Home in Davenport. She is serving on the Event Experience Committee which is planning the Walk to End Alzheimers on September 10, 2011 at the I Wireless Center, Moline.
Filed Under: Community, Health & Wellness, News
Tags: Adult Children, Alzheimer, Dee, Doorway, Eternal Reward, Ferns, Harsh Sound, Ill Twist Of Fate, Insidious Disease, Iwireless Center, Nursing Home, Own Time, Quad City Area, Songbird, Time Capsule, Time Capsules, Twist Of Fate, Weerts Funeral Home, Whys, Youngsters
Trackback URL: https://www.50pluslife.com/2011/08/03/will-you-help-%e2%80%9cfern%e2%80%9d/trackback/