September 2, 2011
Bettendorf Health Care Announces New Administrator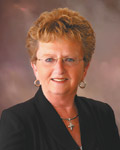 By Diana Spranger, R.N.
Administrator
Bettendorf Health Care
As the month of August comes to a rapid close, and I am drawing closer and closer to that inevitable "last day" at Bettendorf Health Care, I am so pleased to announce that I have been busy training the new Administrator. I am pleased to announce to you ROGER BRANAN.
Roger graduated from Western Illinois University in Macomb, Illinois with a bachelor's degree in Business Administration. Shortly thereafter, he began working in management position at a hospital trauma center in Champaign, Illinois. He soon realized that the healthcare field was his niche in life. He got married and had twin sons that are now 31 years old.
While raising a family, he completed his Master's Degree in Healthcare Administration. In 1990, he accepted his first position as a nursing home administrator. He has worked in long-term care ever since. Although he has been both an administrator and a regional manager for long-term care corporations, his passion is as an administrator where he can develop close-working relationships with the residents, staff and the families.
As an administrator, he promotes customer service and resident-centered care, focusing on each resident's individual needs.
Knowing this about Roger, and having had the privilege of spending the past two and a half weeks with him, I am extremely confident that Bettendorf Health Care is in safe hands. Having sown a great deal into the home over the past several years, it makes it so much more comfortable for me to bid farewell to the facility knowing Roger will do well by the residents and the staff.
So lastly, I say a huge thanks to all of you, the readers, my staff, and the residents at Bettendorf Health Care Center.
Diana Spranger, R.N. is adminstrator at Bettendorf Health Care, Bettendorf, Iowa. She can be reached at (563) 332-7465.
Filed Under: News
Tags: Bettendorf Health Care Center, Branan, Champaign Illinois, Degree In Business Administration, First Position, Health Care Center, Healthcare Administration, Healthcare Field, Long Term Care, Macomb Illinois, Management Position, Month Of August, Nursing Home Administrator, Rapid Close, Regional Manager, Safe Hands, Spranger, Trauma Center, Western Illinois University, Working Relationships
Trackback URL: https://www.50pluslife.com/2011/09/02/bettendorf-health-care-announces-new-administrator/trackback/