September 2, 2011
Expecting the Unexpected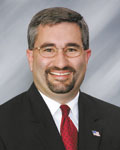 By Curt Ford
Nash Nash Bean & Ford
Nancy wasn't expecting to crash her car during a summer storm. She wasn't expecting to sustain a head injury during the accident. And she certainly wasn't expecting to be out of work over six months while her injuries healed.
Fortunately for Nancy, while her estate planning attorney did not expect this disaster to happen to Nancy, he did
anticipate its possibility. He knew that, according to the National Safety Council, one out of three people age 35 or younger are disabled for six months before they reach age 65, and that one out of four people in that same demographic are disabled for one year.
In addition to recommending that Nancy carry disability insurance to cover any loss of income in case of a temporary or long-term disability, her attorney also ensured her estate plan included a HIPAA Authorization along with Health Care and Property Powers of Attorney. When Nancy had suffered her head injury, these documents assisted her family during the medical crisis:
• The HIPAA authorization: Designed to prevent anyone from abusing another individual's medical information, the Health Insurance Portability and Accountability Act prevents medical personnel from releasing any patient information to unauthorized individuals. The HIPAA Authorization Form allowed Nancy to name an agent who was allowed access to her medical records while she was incapacitated.
• The Health Care Power of Attorney: in addition to the HIPAA Authorization, her Health Care Power of Attorney legally allowed another person to act as her agent in the medical emergency, directing Nancy's medical care according to her earlier expressed wishes.
These documents did not supersede Nancy's ability to make medical decisions any time prior to her accident; they were simply measures to protect her in the emergency.
With these forms, Nancy was assured she had people she knew and trusted making decisions for her healthcare needs. Without these forms, once Nancy was incapacitated, her family would have been required to go through a "living probate" process to have her declared incompetent: requesting a public hearing, publishing a notice of the hearing to be in the local newspaper of record and participating in a public hearing on her competency at the local courthouse.
It is easy to incorporate a Power of Attorney and HIPAA authorization into a revocable living trust. Adding these documents, along with a Property Power of Attorney to insure your financial needs are covered as well, creates an all-encompassing plan for when the unexpected happens.
Nash Nash Bean & Ford, LLP are members of the American Academy of Estate Planning Attorneys and the National Academy of Elder Law Attorneys. To receive a copy of our most recent newsletter "Your Estate Matters" or for a free consultation on Estate or Long Term Care planning, call (309) 944-2188, (309) 762-9368 or 1-800-644-5345. You may also contact our firm by email at info@nashbeanford.com or visit our website at www.nashbeanford.com.
The firm devotes its practice primarily in the areas of estate, business and tax planning and related areas of the law as well as elder law and trust administration and probate. We offer guidance and advice to our clients in every area of estate planning.
This column is designed for general information purposes only, and is not intended, nor should be construed or relied upon, as legal advice. Please consult your attorney if specific legal information is desired.
Curt Ford is an attorney at Nash Nash Bean & Ford. He can be reached at (309) 944-2188 or (309) 762-9368 or at info@nashbeanford.com
Tags: Disability Insurance, Head Injury, Health Care Power, Health Insurance, Health Insurance Portability, Health Insurance Portability And Accountability, Health Insurance Portability And Accountability Act, Hipaa Authorization Form, Long Term Disability, Medical Crisis, Medical Decisions, Medical Emergency, Medical Information, Medical Records, National Safety Council, Patient Information, Power Of Attorney, Powers Of Attorney, Summer Storm, Unauthorized Individuals
Trackback URL: https://www.50pluslife.com/2011/09/02/expecting-the-unexpected/trackback/