October 5, 2011
In and Out of the Quad-Cities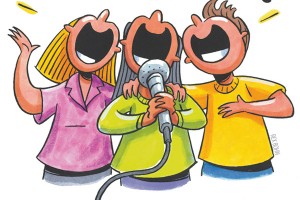 Contributed by
Gail McPike
and Toni Hall
Mitch Miller, Karaoke and the Quad-Cities

It was a crisp fall Thursday night back in 1961. The whole family was gathered around the big console TV in the living room. We were already dressed in our PJ's and washed up ready for bed. It's a school night, and the rigors of our
elementary education called for an early bed time. But, somehow we got a glimpse of a pre-Beatles phenomenon about to sweep the nation. The TV was tuned to the local NBC station and suddenly the announcer blared – "It's time for Sing Along with Mitch."
Music pioneer, Mitch Miller, introduced the bouncing ball to the American lexicon. We stood wide-eyed and awestruck as our parents lurched forward and started singing "The Yellow Rose of Texas" at the top of their lungs. Heck, we were native Okies, daughters of the Sooner State, what the heck was going on here?
Somehow, over the next six years, moms and dads and boys and girls of all ages belted out song after song with Mitch's low fidelity orchestra and chorus. Mitch didn't seem to mind that the folks back home couldn't carry a tune in a bucket. He stood there smiling through his gigantic goatee, waving his baton and encouraging mayhem in the homes of the masses – all in living black and white.
Actually, we think Mitch made out like a bandit. He went on to sell records, TV Specials and for those of you who are trivia nuts, Mitch lived a long full life – dying last summer at age 99. According to our resident expert and Current Trophy Husband (CTH) Frank, Mitch had a sick penchant for encouraging no-talent singers toward animal torture – and we will touch on that later.
So, now you ask; what exactly does mustachioed Mitch have to do with In and Out of the Quad-Cities? It's a long story, but… we were at a party a couple of weeks ago and met a couple of new friends. They seemed like a really nice
couple, and somewhere in the party patter, they divulged – they Karaoke.
In our QCA adventures, we have met many interesting folks – brewers, pilots, TV personalities, robotic engineers, soap makers, fiber artists and even an ex-member of a motor cycle gang. But we've never had anyone come forward with the admission of being a Karaoke enthusiast. Quite frankly, it got our wheels turning. We had to learn more.
For those who may be Karaoke neophytes, allow us to provide you with a bit of background. Karaoke got its start in Japan. According to CTH, Phil, who has traveled to Japan, Karaoke is like a national past-time for these folks. When they're not munching on raw fish and sipping sake, the Japanese are thinking about their next Karaoke session.
The word is actually derived from two Japanese characters roughly translated into "empty orchestra." And, here's how it works. A Karaoke machine provides the background of a song without the main vocals, as a TV monitor flashes the words (Mitch Miller-style) across the screen. Singers are given a microphone and the opportunity to sing along (without Mitch).
In true investigative reporter fashion, we decided to check out the local Karaoke scene incognito. So, we dipped into our disguise kit, dressed as Karaoke fans and ventured into this underground movement.
We checked the local entertainment section and found that Karaoke appears in a number of spots across our fair city. Our first stop – a quiet neighborhood bar called the Circle Tap. The place was packed with patrons, and it was easy for us to slip in unnoticed for a firsthand assessment.
The Karaoke setup included a nice lady running the machine in the corner of the bar. Following each performance she would announce something like, "Joe and Bill you are on deck," and then she would pass the microphone to the next singer. The current singer would belt out some mid-80s song; she would then call out the next on- deck crooner before
handing the microphone over to Joe and Bill.
Now a word on the singers – the average person in America can hum top-40 songs in the shower with style and poise. But when it comes to singing a full song, they struggle. Here's our take on it – if the average person had to sing for their supper, America's struggle with obesity would be a moot point. Don't get us wrong; these people were definitely
having fun, but our guess is small animals were suffering in a 10 block radius. But here we refer to the average guy down the street. Every now and again, a Susan Boyle in the making emerged and pure magic followed.
A few of these work-a-day Quad-Citians can really sing. When they open their mouths melodies pour forth. There is no way to tell who it will be. If you happen to be one of these Susan Boyle types, we hope you will find your way out to the local Karaoke scene. We'll be watching for you.
Filed Under: Community, Featured, Humor
Tags: American Lexicon, Animal Torture, Bed Time, Bouncing Ball, Boys And Girls, Crisp Fall, Elementary Education, Folks Back Home, Goatee, Low Fidelity, Mcpike, Mitch Miller, Moms And Dads, Music Pioneer, Nbc Station, Quad Cities, Resident Expert, Sing Along With Mitch, Trophy Husband, Yellow Rose Of Texas
Trackback URL: https://www.50pluslife.com/2011/10/05/in-and-out-of-the-quad-cities-22/trackback/