October 5, 2011
It's Nice to Be Back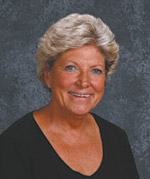 By Mary Schricker
Since my retirement in June of this year, I have taken a brief hiatus from writing. The past five months have been spent sorting through my own boxes of memories, marketing and selling my home and relocating. Although much of my time is now spent in Atlanta, Illinois, I still do have a Quad- City residence and a strong presence in the community.
I have to admit though that retirement is agreeing with me. I spend hours tending my garden, trying new recipes, reading on the screened in porch and traveling. On any given day, I'm unclear which day of the week it is or where the time has gone. I'm pretty sure that is a sign that I am truly retired!
One thing I have enjoyed in my newfound life is the opportunity to meet interesting people and experience fresh adventures. These include attending several baseball games (I have renewed an allegiance to my birthplace and become a true St. Louis Cardinal fan); cheering on those tiny cars driven by the Shriners in over a dozen small town parades; exploring the countryside from the inside of an RV; attending my first cemetery walk; (a unique look at the history of some former local residents); serving homemade ice cream at the annual church social; viewing five remarkable fireworks displays on the July 4th weekend; and last but not least eating my way through Minier Corn Days, the Atlanta Fall Festival, Morton Pumpkin Festival, and the Clinton Pork and Apple Festival just to name a few.
This repertoire of adventures will hopefully become fodder for forthcoming articles that will no longer focus on real estate issues, but will retain a "senior" flavor, covering such subjects as travel, health, family, friendships, and life lessons learned. I am looking forward, once again, to sharing my thoughts and experiences with you, the reader. Yes, it really is nice to be back!
Mary Schricker, a former educator and retired Seniors Real Estate Specialist, is the author of two books,
"The West End Kid" & "A Labor of Love."
Filed Under: News, Retirement
Tags: Apple Festival, Atlanta Illinois, Baseball Games, Cardinal Fan, Fireworks Displays, First Cemetery, Five Months, Fodder, Forthcoming Articles, Fresh Adventures, Health Family, Hiatus, Homemade Ice Cream, Morton Pumpkin Festival, Quad City, Seniors Real Estate, Shriners, St Louis Cardinal, Tiny Cars, Two Books
Trackback URL: https://www.50pluslife.com/2011/10/05/it%e2%80%99s-nice-to-be-back/trackback/