October 5, 2011
Ridgecrest Village Marks 45th Anniversary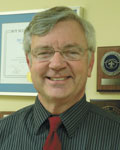 By Bob Morrison
Development Director of Ridgecrest Village
This year marks the 45th Anniversary for Ridgecrest Village. Dr. John Koning's dream came true. While John was a pastor at Newcomb Presbyterian Church, he began with a vision to provide a nice home for the aged. He opened the doors in 1966 that included clergy and teaching professions. Since then, we have grown with the times and added Independent Cottages, Independent Apartments, Assisted Living Apartments and a Memory wing.
Ridgecrest Village is well known in the community, but maybe there are some things you weren't aware of. (1) We are a non-profit community that is Christian based. Ridgecrest has a full-time chaplain that leads Sunday services, care groups, and Bible studies. (2) Our "investors" are the residents that live here. They are the key that holds us accountable for what is accomplished here. They give input as decision makers. As Ambassadors, they are the most encouraging when meeting someone that is considering moving into Ridgecrest. (3) Our core staff members have been here for many years. They stay because they love what they are doing and they love the residents.
To learn more about our loyal staff, we sought out a long-time worker to interview. We have one staff member that has been here for 43 years this month, Elsie Schmidt. When asked, Elsie shared the following:
RV: "What was it like when you first began here?"
Elsie: "When I started, there was only one nurse, and they needed help caring for the residents. I was hired to be a nurse aide."
RV: "What is it that you like about the work you do here?"
Elsie: "I love listening to the stories; they all have one. They are so intelligent and have so much history to share, if you'll take the time to listen."
RV: "How do you get them to tell you their stories?"
Elsie: "If you just listen, give them time and encourage them, they will tell you their story. Sometimes it takes them a while to get to know you, but if you show them you care, even the grumpy ones come around."
RV: "Tell us a little more about your job here."
Elsie: "I like to talk to the visitors personally. If they are thinking of moving in, I tell them that I know it is hard to leave your home, but when you live here, you have the help when you need it. I really enjoy visiting with families; they can help you learn so much about their loved one. The things the families tell you help you give the resident even better care, attention that is more personalized. I find that the residents are very trusting people, and I do everything I can not to break that trust. If you treat them with dignity and respect, you can keep that trust. I really care about the residents. If you them love and show them compassion, your days are great, and you love the work you do."
RV: "If you could say one thing about your time here at Ridgecrest, what would it be?"
Elsie: "You'd be happy here; it's a good place to live."
If you are considering moving into a Senior Community, call us for a tour. We would like to show you around and have you in for a meal. Call us: Bob Morrison (563) 388-3431 or Karen McCoy (563) 388-3215.
Tags: 45th Anniversary, Ambassadors, Bible Studies, Bob Morrison, Care Groups, Core Staff Members, Decision Makers, Development Director, Dr John, Independent Apartments, Independent Cottages, John Koning, Loyal Staff, Newcomb, Nurse Aide, Presbyterian Church, Profit Community, Teaching Professions, Time Worker, Village Dr
Trackback URL: https://www.50pluslife.com/2011/10/05/ridgecrest-village-marks-45th-anniversary/trackback/