November 3, 2011
A Time for Thanksgiving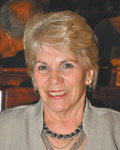 By Eloise Graham
In all things be thankful. I remember my parents instilling that idea in me when I was little. It comes from The Good Book, 1 Thessalonians 5:18 to be exact. I had to look it up!
I thought about the early settlers of our country. They gave thanks for all things, and they didn't have it easy.
Jamestown Settlement was established in 1607. Three ships, Susan Constant, Godspeed and Discovery, came from England carrying 104 men. The next year, more ships and people came. During the winter of 1609, only 60 of the original 214 settlers survived. Death was caused by disease, brackish water supply, unfamiliar climate, lack of food and prolonged drought. Yet those survivors gave thanks for what they did have. I feel confident in saying that they dreamed and hoped for more, but they were thankful for the little that they did have.
Another settlement was Warrosquyoake Shire, named for the Warrosquyoake tribe of the Powhattan Confederacy. There, in the year 1618, the first English plantation was developed by Christopher Lawne. The plantation had a population of over 80 people. The Great Massacre of 1622 killed at least 53 of the inhabitants. Those 30 some remaining rebuilt the plantation. They carried on with fortitude and thankfulness.
The Pilgrims voyage started with the Mayflower and the Speedwell leaving South-Hampton, Hampshire in July 1620. The Speedwell was taking on water, so they were diverted to Dartmouth, Devon. The ship's master and some of the crew were transferred to the Mayflower for the voyage. The two ships had had a combined passenger count of 121. Of those, 102 were chosen to travel on the Mayflower. The now crowded ship set sail September, 1620.
En route, they were met with strong winds and storms. One of these storms caused a main beam to crack. They were more than half way, so they didn't turn back. They were able to sufficiently repair the beam and continue on. A passenger, John Howland, was washed overboard, but he managed to catch a rope and be brought safely back on board. One crew member and one passenger did die; a baby was born.
Two months later, land was sighted, and it was confirmed to be what today we call Cape Cod. An attempt was made to sail the ship around the cape towards the Hudson River, but they encountered shoals and difficult currents. So, they headed back the other direction, and the next day anchored at what is now known as Provincetowne Harbor.
By December, most of the passengers and crew had become ill, coughing violently. Many were also suffering from the effects of scurvy. There had already been ice and snowfall, hampering exploration efforts. During the first winter, 47 percent of them died. On March 22, 1621, the pilgrims of Plymouth Colony signed a peace treaty with Massasoit of the Wampanoags.
In early autumn of 1621, the 53 surviving Pilgrims thankfully celebrated their successful harvest, as was the English custom. Many Indians, probably about 90, came along with their great king Massasoit.
As I read up on the history of these settlers and their colonies, I felt humbled at all we have today that we take for granted, never being thankful. These people went through hardships I can't even imagine and were still thankful for what they did have. As we prepare to celebrate another "Turkey Day" with all of the trimmings, let us remember all that we DO have to be thankful for.
In closing, I have a question for you: "What if you woke up tomorrow with only the things you gave thanks for today?" I really think our community and our country would be a better place if we were thankful in all things.
Filed Under: Featured, History
Tags: 1 Thessalonians 5, Brackish Water, Confederacy, Dartmouth Devon, Early Settlers, Eloise, English Plantation, First Thanksgiving, Fortitude, Godspeed, Jamestown Settlement, John Howland, Main Beam, Mayflower, South Hampton, Speedwell, Strong Winds, Taking On Water, Thankfulness, Three Ships, Two Ships
Trackback URL: https://www.50pluslife.com/2011/11/03/a-time-for-thanksgiving/trackback/