November 3, 2011
On the Go With Joe Hutter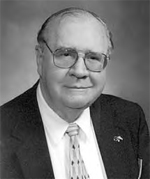 Seniors And Law
Enforcement Together (SALT)
By Joe Hutter
October was a busy month for senior activities. On October 3, I visited the Fountains Senior Living Community. Anne Shumate, one of the activities directors at the Bettendorf facility, invited me to have a short program on donating money to charities. Seniors are targets, and mail comes every day to us asking for money. Please talk to
someone before you sign up for a club or send money to any organization.
S.A.L.T. (Seniors And Law enforcement Together) was at the River Center on September 29 with the Senior Voice Program for volunteering. Gloria Fisher, chairperson of the Board of Directors of Senior Voice, is always advocating for seniors. Their mission is to assist and share the concern of seniors and the needs in the community.
The Scott County Sheriff still has free cell phones that can only be used to call 9-1-1. They can be used anywhere in the United States.
Many of you have computers and are on Facebook, Twitter and Google. Yes, you can keep in contact with
relatives, friends and groups. You also can be scammed, connect with strangers, spammers and sexual predators. You should be concerned about your personal information that you put into your computer. Everyone who has a computer could read your information. Be wary of answering questions or quizzes on your computer. Companies can be selling your answers. Whatever you do on your computer is available to someone anytime. If you are not sure of any company on your computer, call the Iowa or Illinois Attorney General's Office. If you believe a crime has been committed, call your local police or sheriff's office.
If you want to do something during the holidays to help a good cause, volunteer your time. RSVP is always in need of volunteers. Angel Tree is just one of the many programs RSVP oversees. Call (309) 793-4425 if you are 55 or older to help with a program.
If you would like to help our troops in the war, call (309) 737-3054. There are volunteers who send items to our military men and women. The program is named Jason's Box in memory of Corporal Jason Pautsch, who was killed in action on April 10, 2009 in Mosul, Iraq. His mother, Teri Johnson, started Jason's Box Program.
If you have any questions, call (563) 326-8217. Pam at the Scott County Sheriff's Office will be happy to answer your questions.
Take care.
Filed Under: Finance, Retirement
Tags: Angel Tree, Answering Questions, Chairperson, Charities, Computer Companies, County Sheriff, Fountains, Free Cell Phones, Google, Hutter, Illinois Attorney General, Mail, Rsvp, Seniors, September 29, Sexual Predators, Shumate, Spammers, Twitter, Voice Program
Trackback URL: https://www.50pluslife.com/2011/11/03/on-the-go-with-joe-hutter-25/trackback/