December 5, 2011
Everyone needs an RV in their backyard!!!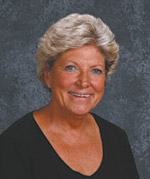 By Mary Schricker
If anyone would have told me a few years ago that I would be promoting the positive attributes of recreational vehicles, I would not have believed them, but circumstances have led me down an interesting path this past year and a half. My perception of RV'ing, or camping as I called it, was based on my experiences many years ago sleeping in a tent on the sand flea-infested shores of the Wisconsin River near Spring Green. Although I enjoyed the camaraderie with friends and family, I eventually found it to be less than civilized, and 'camping' quickly became one of my least favorite summer activities.
Even though I had never been in an RV, I assumed it was just a fancy way to camp. So, you can imagine my surprise, when I toured my first 40 foot Winnebago Itasca, complete with fireplace, sleep number bed, solid surface counters and washer/dryer. My first motor home adventures included a trip to a St. Louis Cardinal game, a tour of the Amish country in Indiana, and a week in Door County, Wisconsin. It did not take me long to figure out that this was a great way to travel: no packing and unpacking, refrigerator and bathroom just steps away, my own pull-out writing tray, a great view of the countryside for miles and miles, friendly neighbors from all over the country……and on and on!!!
Little did I know, that my fascination with the motor home would take on a whole new meaning! In September of 2010, a devastating house fire reduced my fiance's log home to a pile of ashes in a few short hours. With absolutely nothing left but the clothes on his back and the RV, we quickly found comfort in our new home on wheels. We stayed in the RV for close to two months, until the threat of freezing pipes caused us to find other temporary housing. While rebuilding on the property in the spring, we once again moved into the RV until the new house was completed in July.
Although we have enjoyed additional adventures in the RV this summer and fall, it has been most useful as a guest cottage for the overflow of friends and family who have come to visit. Perched on its own concrete pad surrounded by colorful annuals, it is a welcoming, comfortable vacation home for guests.
Adversity is a great teacher. We learn when bad things happen, to roll up our shirt sleeves and put on our best face. In doing so, we have less time to be judgmental and rigid and become so very aware of what we have to be thankful for in this life. That "camper" that I would have snubbed my nose at during another time in my life, became a warm comforting place where we focused on thanking God for our safety, our friends, and the gift of each other through a difficult time.
Mary Schricker,
Mary Schricker, a former educator and Seniors Real Estate Specialist, is the author of two books, "The West End Kid" & "A Labor of Love."
Filed Under: Community, Family
Tags: Amish Country In Indiana, Amish Indiana, Camaraderie, Door County Wisconsin, Fal, Freezing Pipes, Friendly Neighbors, Log Home, Nothing Left, Rv Camping, Sand Flea, Sleep Number Bed, Solid Surface Counters, Spring Green, St Louis Cardinal, St Louis Cardinal Game, Temporary Housing, Washer Dryer, Winnebago Itasca, Wisconsin River
Trackback URL: https://www.50pluslife.com/2011/12/05/everyone-needs-an-rv-in-their-backyard/trackback/