December 5, 2011
Pears – A "Pear-fect" Seasonal Selection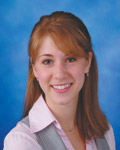 By Kristen Decker, R.D., L.D.
Hy-Vee Registered Dietician
(563) 355-5540
kdecker@hy-vee.com
The fact that December is National Pear Month is just one of the many reasons to incorporate more pears into your winter meals and snacks. Thanks to all the varieties now available at your local Hy-Vee, you are sure to find one with a taste and texture to suit your preferences. Indulge in these gems during their peak season and reap the benefits!
A bite of health benefits
Pears are a sweet source of fiber and phytochemicals. Each pear contains four to five grams of dietary fiber! Most of the fiber found in pears is insoluble and is largely present in the skin. The natural antioxidants found in pears, such as vitamin C, are important in the prevention of chronic diseases and may improve immune function.
Check the neck for ripeness
Don't rely on color as an indicator of whether your pear is ripe. Test ripeness by "checking the neck." Press lightly into the neck of the pear. It should give to gentle pressure when pressed lightly. If your pear is not quite ripe, place it in a brown paper bag to ripen faster.
Sneak a serving in at any time of day
• Start off the day right by layering a pear onto your breakfast sandwich. Like apples, their sweet flavor pairs well with nut butter.
• Slice up and serve on top of your lunchtime salad.
• Bake into a fiber-filled afternoon treat like pear mini-muffins!
• Sauté and serve alongside pork roast at dinnertime.
• Bake into a pear-and-cranberry crisp for a seasonal dessert.
Here is a recipe to try at your next holiday gathering:
Balsamic-Glazed Pear and Goat Cheese Crostini
A new favorite recipe for pear lovers, this appetizer is incredibly delicious…and can be prepared in a snap! The balsamic glaze is the perfect complement to the sweet pear and salty goat cheese.
All you need:
2 USA pears
3 tablespoons Grand Selections balsamic vinegar 1 tablespoon Hy-Vee butter
1 teaspoon Hy-Vee honey
24 baguette rounds, toasted
? cup spreadable goat cheese, divided
? cup slivered almonds, toasted* Ground black pepper, if desired
All you do:
1. Slice pears stem-side-up into 12 quarter-inch-wide vertical planks. Cut large slices in half lengthwise for a total of 48 slices.
2. Heat vinegar, butter and honey in large frying pan over medium heat for 2 to 3 minutes, stirring constantly, until reduced by half, yielding about 2 tablespoons. Add pear slices and continue cooking for 1 minute, turning once.
3. Place 2 pear slices on each baguette round and top with 1 teaspoon goat cheese. Sprinkle almonds over cheese and garnish with fresh pepper, if desired.
*To toast almonds, place in heavy frying pan and toast over medium heat, stirring constantly, for 1 to 2 minutes or until tan with toasted aroma.
Yield: Makes 24 servings
Nutritional Analysis per Serving (1 piece): Calories 80; 3g Protein; 11g Carbohydrate; 1g Fiber; 3g Fat (1g Sat. Fat, 0g Trans Fat); 5mg Cholesterol; 115mg Sodium
www.usapears.com
Filed Under: Health & Wellness
Tags: Balsamic Glaze, Breakfast Sandwich, Chronic Diseases, Dietary Fiber, Dinnertime, Gentle Pressure, Goat Cheese, Hy Vee, Immune Function, Mini Muffins, Natural Antioxidants, Nut Butter, Peak Season, Pork Roast, Registered Dietician, Ripeness, Sweet Flavor, Sweet Pear, Usa Pears, Winter Meals