December 5, 2011
The Holiday Season! – PUBLISHER'S CORNER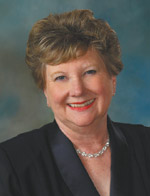 By Dee Deuth, CSA
Weerts Funeral Home
Most of us prefer to live in the present, enjoy each day. Me, too, usually. However, as the holidays approach, I allow myself the privilege of some reminiscing; bring up some pleasant childhood holidays past.
Among my fondest is the memory of Christmas Day at Grandpa and Grandma's farm. I grew up in a small rural town in Minnesota in the 40s. Grandpa and Grandma lived about eight miles south of town, which seemed a long distance to me.
There were no cell phones, and poor telephone service generally, we would call the farm when ready to leave our home. "Why," you ask. Because the quarter mile drive from the road to their farm was a snow ridden dirt path, which crossed a rickety makeshift bridge over a creek. But, thankfully, we would leave our 40s something Ford on the road, and Grandpa would meet us with a grain wagon hitched to a lovely team of horses. We'd clamor into the wagon with our presents and dishes to pass and proceed up the dirt lane to the sound of sleigh bells, singing, "Over the creek and thru the fields, to Grandmother's house we go."
In the kitchen, the old cook stove stood proudly with his tinder box along side filled with wood and corncobs. It hummed slightly and shook a bit as the fire burned inside. It was a busy day for the old stove, producing bread, many pies and tasty meats. A meal fit for any princess!
Presents were small, inexpensive and usually homemade, but that didn't matter; the greatest gift was the love that permeated every nook and cranny of that old farmhouse. Of course, at twilight we loaded up in the wagon and Dan and Dolly pulled us back to the road, happy, full and content. A true Currier and Ives Christmas!
This holiday season, I would like to invite you to reminisce a bit about your youth. Share it with your loved ones, and keep that warm memory close to your heart. All of us at 50+ Lifestyles Magazine wish you a VERY HAPPY HOLIDAY SEASON, filled with fond memories and the enjoyment of making some new traditions with your loved ones.
Tags: 40s, Busy Day, Cfsp, Christmas Day, Clamor, Cook Stove, Currier And Ives, Currier And Ives Christmas, Dirt Path, Eight Miles, Grain Wagon, Grandpa And Grandma, Happy Holiday, Holiday Season, Lifestyles Magazine, Nook And Cranny, Sleigh Bells, Tasty Meats, Tinder Box, Warm Memory, Weerts Funeral Home
Trackback URL: https://www.50pluslife.com/2011/12/05/the-holiday-season-publisher%e2%80%99s-corner/trackback/