January 3, 2012
A New Year, A New Life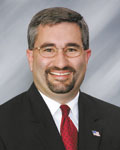 By Curt Ford
Nash Nash Bean & Ford
Over 100 million Americans plan New Year's resolutions to improve their lives over the next 12 months. While their goals vary from losing weight to spending more time with their children, most people make resolutions to gain more
control over their lives.
One of the best ways to take control of your life is to make sure your estate plan is in order. While it may not be a typical resolution, it is easier than losing 30 pounds, and with the attorneys and staff at your estate planning firm, it comes with a built-in support system, a key element to successfully completing a resolution.
Your estate planning firm will help you with several important documents including:

• A HIPAA document: Designed to prevent anyone from abusing another individual's medical information, the Health Insurance Portability and Accountability Act prevents medical personnel from releasing any patient information to unauthorized individuals. The HIPAA Authorization Form allows you to name the people you wish to to receive your medical information.
• A Health Care Power of Attorney: In addition to the HIPAA Authorization, a Health Care Power of Attorney legally allows a person you name to act as your agent in a medical emergency.
• A Property Power of Attorney: This document allows you to name a person to act as your agent on any property in your name if you are temporarily or permanently incapacitated.
• A Will: This document provides a framework for who will inherit your assets after your death. It also can be used to name a guardian for minor children.
• A Living Trust: In many ways, a Living Trust is similar to a will. It is a legal document defining the distribution of your assets following your death and naming who will manage your estate. However, it also can incorporate all the above documents, and it provides enormous protection during your lifetime – which a will cannot do – and continues to work well after you are deceased.
As you assess your life this New Year, you can resolve to gain control of your life. With carefully crafted documents working together to create a complete estate plan, you can protect yourself and your family, during your life and after.
Nash Nash Bean & Ford are members of the American Academy of Estate Planning Attorneys and the National Academy of Elder Law Attorneys. To receive a copy of our most recent newsletter "Your Estate Matters" or for a free consultation on Estate or Long Term Care Planning, call (309) 944-2188, (309) 762-9368 or 1-800-644-5345. You may also contact our firm by email at info@nashbeanford.com or visit our web site at www.nashbeanford.com.
The firm devotes its practice primarily in the areas of estate, business and tax planning and related areas of the law, as well as elder law and trust administration and probate. We offer guidance and advice to our clients in every area of estate planning.
This column is designed for general information purposes only, and is not intended, nor should be construed or relied upon, as legal advice. Please consult your attorney if specific legal information is desired.
Filed Under: Family, Finance, Retirement
Tags: 100 Million, 12 Months, Estate Planning Firm, Health Care Power, Health Insurance, Health Insurance Portability, Health Insurance Portability And Accountability, Health Insurance Portability And Accountability Act, Hipaa Authorization Form, Legal Document, Living Trust, Losing Weight, Medical Emergency, Medical Information, Nash, New Year, Patient Information, Power Of Attorney, Resolutions, Unauthorized Individuals
Trackback URL: https://www.50pluslife.com/2012/01/03/a-new-year-a-new-life/trackback/