January 3, 2012
Blast the 'I'm Bored' Blues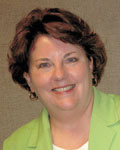 By Rondi Doyle
Director of Community Relations
Child Abuse Council
When the cold temperatures and the shortened daylight hours make for a lot of time spent inside, parents and caregivers look for fun, interactive and creative activities that stimulate children's minds and bodies.
Children love to bake – cookies, sweet breads, etc. Plus, cooking is full of opportunities to talk about measuring,
fractions, following directions, reading, where food comes from, and you get a treat at the end! Also, children love board and card games; coloring, play dough, and good books and DVD's are wonderful ideas. But don't be afraid to pull on some snow clothes and boots and go play in the snow or make a snowman or an igloo.
Here are a couple of fun activities courtesy of Disney Family Fun:
Balloon Volleyball – For this game, the leader blows up one large balloon. The leader then divides the children into small teams of two or three. The children try to get the balloon back and forth between teams without the balloon touching the ground. The catch is that, unlike regular volley ball, the children aren't allowed to use their hands. The fact that the children can't extend their reach as usual keeps the kids from getting too rambunctious, yet gets them thinking of other ways to use their bodies. This game also can be played by one child, with the objective being to see how long he can keep the balloon off the ground on her/his own, or how many times she/he can hit the balloon in 60 seconds.
Dress the Snowman – This is a great game to play just before going outside in the winter. The leader gathers all the kids' winter gear such as gloves and hats in a pile. Children form two teams. Each team elects one person to be a snowman. On the leader's signal, the children dress their snowman as fast as they can. The snowman has to remain perfectly still and can't help with the dressing. This makes putting on items like snow pants and boots very funny. The first team to get a snowman completely dressed wins. The leader may dictate what constitutes a "dressed" snowman, depending on the gear available.
• Play Just Dance or DDR. There are more activity games out there, but those are my family's favorite. Get your
children moving by dancing around the house.
• Join the YWCA, YMCA or fitness center that has programs to keep your children playing.
• Give them chores to help you around the house, and to keep them moving. I always had to vacuum and sweep when I was younger. I didn't like it much, but now I don't mind because it was instilled in me while I was young.
• Make a treasure hunt around the house. Have a few clues outside to make it fun. Of course, have them follow the instructions to put on coats, boots and gloves. You'll enjoy watching them have fun.
• Go ice skating or indoor skating.
There are many things to do to keep your children active this winter. Have fun with it and play. Get involved with them and watch how much fun you could have, too.
The Child Abuse Council exists to lead community efforts to eliminating child abuse and neglect by strengthening
children and families through prevention, education and treatment. For more information about the Child Abuse Council, you can visit at www.childabuseqc.org.
Filed Under: Family, Health & Wellness
Tags: Balloon, Card Games, Caregivers, Child Abuse Council, Cold Temperatures, Community Relations, Creative Activities, Daylight Hours, Disney Family, Family Fun, Fractions, Fun Activities, Good Books, Great Game, Play Dough, Snow Clothes, Snow Pants, Snowman, Volley Ball, Winter Gear
Trackback URL: https://www.50pluslife.com/2012/01/03/blast-the-%e2%80%98i%e2%80%99m-bored%e2%80%99-blues/trackback/