January 3, 2012
Max's Musings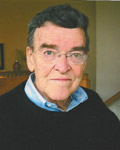 By Max Molleston
For the new year, I have taken 50+ years off the present, in this column. Set yourself at Ames, Iowa, Iowa State University (then College). If you are in your mid-70s, you could have been there on campus. This time of year, windy and cold. It was a long walk from Beardshear Hall to the east side of campus. If you are at hand under these circumstances, here we go.
Will Jumper was a professor in the English Department. I did not know him, but did know some of his colleagues, which would include Leonard Fineberg, Dick Gustafson and Hazel Lippa. I knew Fineberg after taking his class in creative writing. I drank a few beers with Dick Gustafson, but did not personally know Hazel Lippa or Will Jumper. My sister, Ellen (now Walvoord) was on the Journalism side of the Ames campus, and didn't know these folks. Ted Kooser, of Ames and Iowa State, as a student, probably knew them all. Kooser, most recently a U.S. Poet Laureate, was a poet at that time, with colleagues, including U.S. Senator Tom Harkin, as students. My late mother knew Hazel Lippa. They lived in North Crest Retirement Center in Ames. Hazel volunteered to shepherd other residents in a writing course for her contemporaries. My mom didn't like the professor's methods, but did do lots of memoir writing from her childhood on an Iowa farm. Caught up?!
Will Jumper published a bushel of his poems, and like others, called this edition "selected poems," which is about selecting OUT bad poems. Because it is January, and our upper Midwest is set to have a miserable winter, this ode to overwintering birds is timely.
A SURLY ADDRESS TO CERTAIN BIRDS IN AMES, IOWA ON JANUARY TWENTY-SIXTH

Foolhardy birds! Go south, go west, go anywhere but here. Your spring-like trills that float from naked trees (copied from Breughel's Winter: Jumper's remark) echo clear and stupid through the ice-filled winds, which freeze the lips that form my words.

Congealing rain- or drizzle- coats whatever thing is left without protection under granite skies, and yet you sing. Mad birds, you are bereft of every bird-right; he who feeds not dies. Go hence there is no gain

In false heroics. Your sooty wings beat fast. I watch you fly from twig to frozen twig, I hear you sing. And, on a sudden, you're not you, but I, with fragile-feathered hopes to which we cling–what fools we are, we stoics.
The agricultural Midwest is well aware of stoic. It is, more or less, an umemotional approach to outcomes, whatever they might be. We might find an example with the Iowa State football coach, very actively emotional, at least at televised games, to the Iowa football coach, chewing gum in games, but otherwise, very contained (mostly). Could be a poor example of stoicism, but I will own it.
Some can recall and emote Robert Frost's Stopping by the Woods on a Snowy Evening. Surely the classic. We will undoubtedly have our share of snowy evenings, most not quite as glorious or eventful as the word picture working for Frost and for us.
We are traveling folk, and move from place to place as easily as it is possible. sometimed impossible. Nevertheless, we did strike out for the homes and the holiday comfort and wonderful experiences, including presents for many of us and a chance at feasting we get few times in the year ahead. This year, 2012, is young for us, and we want it to mature firmly and wisely, when and where possible. February always brings that pronouncing argument about FEB-RU-AIRY, or FEB-U-AIRY.
Join us here in a month for the FEB U ARY column.
Filed Under: Personal Growth
Tags: Ames Iowa, Bushel, Contemporaries, Drizzle Coats, Gustafson, Iowa Farm, Iowa Iowa, Iowa State University, Mid 70s, Miserable Winter, Naked Trees, North Crest, Poet Laureate, Retirement Center, Senator Harkin, Senator Tom Harkin, Ted Kooser, Tom Harkin, Trills, Upper Midwest
Trackback URL: https://www.50pluslife.com/2012/01/03/max%e2%80%99s-musings-29/trackback/