January 3, 2012
New Year – Benefit from Volunteering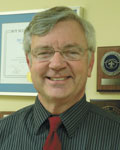 By Bob Morrison
Development Director of Ridgecrest Village
A quick look at Wikipedia.org offers a definition, "Volunteering is generally considered an altruistic activity, intended to promote good or improve human quality of life. People also volunteer for their own skill development, to meet others, to make contacts for possible employment, to have fun, and a variety of other reasons that could be considered self-serving. Volunteerism is the act of selflessly giving your life to something you believe free of pay." The term quality of life is used to evaluate the general well-being of individuals and societies.
According to the 2000 National Survey of Giving, Volunteering and Participating (NSGVP), volunteering leaves little doubt that there are individual benefits from doing volunteer work that reach far beyond the volunteer act itself. More than three quarters (79 percent) of volunteers said that their volunteer activities helped them with their interpersonal skills, such as understanding people better, motivating others, and dealing with difficult situations. Just over two thirds (68 percent) of volunteers said that volunteering helped them to develop better communication skills. It is a two-way street.
The 1,000 points of light was a recurring phrase in speeches given by President George H. W. Bush, asking all the community organizations that are spread like stars throughout the nation to do good. America's leaders from both parties and from many charities have promoted volunteerism. Where would our churches be without the many volunteer hours provided by dedicated parishioners? Character building groups, such as Scouting and Rotary, thrive on doing good deeds and service for others.
Volunteers are known as "The Heart of Ridgecrest Village." This Volunteer Service League has over 200 participants, half from our community and half from Ridgecrest residents. These volunteers provide a caring community in Davenport with a wide range of services. They are known to receive personal appreciation and recognition of their time and talents.
Wilma Nichol is a 97-years young musician and said of her story at Ridgecrest Village, "To be a volunteer does not require a lot of training; just the willingness to give of your time. Pick and choose any small or large task. Do what you like and what fits your time schedule. What a group of willing helpers can accomplish is amazing!"
Don Patridge, who teaches email, internet and computers at Ridgecrest, says, "This is a fun group of people to work with. I really enjoy helping them."
In today's busy society, it can be hard to think about finding time to volunteer. However, the benefits of volunteering are enormous, both to you, your family and the community. The right match can help you find friends, strengthen your ties and reach out to the community; expose you to people with common interests, neighborhood resources, and fun and fulfilling activities.
Children watch everything you do. By giving back to the community as a family, you show them first hand how volunteering makes a
difference and how good it feels to help others and enact change. For them to know organizations in the community will open their eyes to more resources and activities.
Volunteering is good for your mind and body by:
• Increasing self-confidence, providing a natural sense of accomplishment, pride and identity.
• Combating depression. Giving to others develops a solid support system, which in turn protects you against stress and depression when you're going through challenging times.
• Helping you stay physically healthy. Volunteering is especially beneficial in older adults. Studies show a lower mortality rate and lessen symptoms of chronic pain or heart disease.
• Adapting to limited mobility. Volunteer via phone or computer, writing and graphic design lends itself to working at home, and many organizations might also need help with email and websites.
While learning new skills can be beneficial to many, it's not a requirement for a fulfilling volunteer experience. Bear in mind that the most valuable skills you can bring to any volunteer effort are compassion, an open mind, a willingness to do whatever is needed, and a positive attitude.
When it comes to volunteering, passion and positivity are the only requirements. Doing volunteer work you find meaningful and interesting can be a relaxing, energizing escape from your day-to-day routine of work, school, or family commitments. Volunteering also provides you with renewed creativity, motivation, and vision that can carry over into your personal and professional life.
Having answers to these questions will help you narrow down your search for a rewarding volunteering experience. (Source: World Volunteer Web). Don't limit yourself to just one organization or one specific type of job. The more satisfaction you have, the better your contributions and the more likely you'll continue.
Where do I find volunteer opportunities?
• Community theaters, museums and monuments
• Libraries or senior centers
• Service organizations, such as Lions Club or Rotary Clubs
• Youth organizations, sports teams and after-school programs
• Places of worship, such as churches or synagogues
• Online databases, such as VolunteerMatch or Idealist
Get the most out of volunteering. You're donating your valuable time, so it's important that you enjoy and benefit from your volunteering. Ask questions, speak up. Is there training involved, who you will be working with, and what to do if you have questions during your experience? Don't be afraid to make a change. Give yourself some flexibility. Most importantly: Enjoy yourself!
Filed Under: Community, Health & Wellness, Personal Growth
Tags: Bob Morrison, Character Building, Development Director, Difficult Situations, George H W Bush, Good Deeds, Human Quality, Motivating Others, National Survey, Parishioners, Points Of Light, President George H W Bush, Selflessly, Skill Development, Term Quality, Three Quarters, Volunteer Activities, Volunteer Hours, Volunteer Service, Volunteerism
Trackback URL: https://www.50pluslife.com/2012/01/03/new-year-%e2%80%93-benefit-from-volunteering/trackback/