February 1, 2012
Announcing Memories in the Making 2012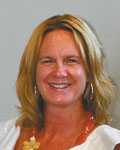 By Kirsten Adams
Lighthouse Homecare
Many of you may remember that our first ever Quad-Cities Memories in the Making® was held at our Lighthouse Homecare's office building in Rock Island last June. Traditionally, most first year events often start out slow and take years to gain momentum. This was NOT one of those events! In fact, this was so successful, we barely had room to host the 150 plus people who attended. Nationally, the Memories in the Making® event has been going strong for over 20 years, and it was about time that the Quad-Cities became involved. Memories in the Making® originated at the Alzheimer's Association Orange County Chapter in 1988. The program was developed by Selly Jenny, who endeavored to create a meaningful activity for people like her mother, who suffered from Alzheimer's disease. Selly succeeded, as research indicates Memories in the Making® programs have a positive impact on physical health, mental health, and social functions of older adults living with Alzheimer's.
Lighthouse Homecare is proud to be associated with the Alzheimer's Association and this wonderful community event. Memories in the Making® is a program that provides individuals an opportunity to express themselves through painting and creating artwork. By engaging in the process of making art, people with dementia reminisce about past experiences, enjoy the present and feel a sense of pleasure and accomplishment at creating something that endures and remains for family and friends. The art is a visual reminder of their humanity and need to remain connected. In many cases, this creative expression facilitates the re-connection to a person's long-held spirituality. The program is most often considered a group activity, and it is conducted in care facilities. Last year, nearly a dozen care facilities throughout the Quad-Cities participated. These facilities, along with local artists, hold classes until early March. Then a committee reviews the art and chooses 12 to 15 pieces of art to be auctioned at the final event.
How powerful is this for families?

The Alzheimer's Association received this after last year's event from Roseanna Knowles, who lived far away from her mother Erma Knowles. Erma was a resident at Rock Island Nursing and Rehab and passed away from the disease this year.
"I really never found out about this project until I was told that my mom had won. My mom had never picked up a paint brush, except to paint a house or room. When they told us what she had told them, (about) what it meant (the painting), it was so out of character for my Mom. She never revealed stuff like that to us kids. We loved what was told to us…"
What a powerful program for those persons with Alzheimer's disease and other dementias and their families. We have fantastic news for the Quad-Cities. This year's Memories in the Making® event will be held at the Figge Museum on April 20, 2012. Please mark your calendar's for this special event.
If you have questions about how you can help or be involved, please contact myself by emailing kirsten@lighthousehomecare.com or contact Joni Johnson at the Alzheimer's Association. Joni's email is joni.johnson@alz.org
Filed Under: Community
Tags: Accomplishment, Alzheimer Association, Alzheimer S Association, Creative Expression, Dementia, Group Activity, Health Mental Health, Kirsten Adams, Lighthouse, Local Artists, Meaningful Activity, Memories In The Making, Older Adults, Orange County Chapter, Physical Health, Quad Cities, Reminisce, Selly, Social Functions, Visual Reminder
Trackback URL: https://www.50pluslife.com/2012/02/01/announcing-memories-in-the-making-2012/trackback/