February 1, 2012
Estate Planning as a Team Sport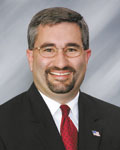 By Curt Ford
Nash Nash Bean & Ford
Jan and Don were life-long athletes. During high school, both played several team sports, and they continued to feed this passion with church and community teams as they aged. In addition, when their children were younger, they took turns serving as coach, cheerleader, snack parent and equipment manager.
With these years of experience, they understood a great way to achieve a goal was through a team, cooperative effort. So, it was no surprise that when it came time to create their estate plan, they again assembled a team – a team of legal and financial professionals, ensuring their financial goals meshed with their estate plan goals.
Like Jan and Don, you can assemble your own team of professionals to create and maintain your estate plan, ensuring you have a cohesive strategy for both your financial and non-financial wealth.
In building your team, you can include:
• A qualified estate planning attorney. As with most areas of law, estate planning requires specific language and the laws change frequently. An attorney that focuses his or her practice in estate planning will have a thorough understanding of the current laws and updates. In additional to the financial aspects of the plan, an attorney will ensure you have additional important documents such as powers of attorney and health care directives.
• A financial planner. While they may focus in a number of areas, a financial planner can help you coordinate and track your financial assets including retirement accounts, making sure you are on pace to meet your financial goals.
• An accountant. Many estate planning techniques are associated with tax planning. An accountant can help you navigate multiple tax issues and, where appropriate, business accounting and planning issues.
• Your family. Sharing information about your estate plans now can eliminate discord and arguments later. Not only will your family not have to argue about who should get grandma's dishes, they also will have a better understanding of your wishes for
medical care and end-of-life issues.
Like Jan and Don, you may have questions about how to assemble your team. If you are not currently working with any of the key players, you can begin by asking trusted friends or family members for recommendations. If you do have an advisor in any of the areas outlined, they may already work with advisors in related fields and may be able to make a recommendation for you.
Nash Nash Bean & Ford are members of the American Academy of Estate Planning Attorneys and the National Academy of Elder Law Attorneys. To receive a copy of our most recent newsletter, "Your Estate Matters," or for a free consultation on Estate or Long Term Care Planning, call (309) 944-2188, (309) 762-9368 or 1-800-644-5345. You may also contact our firm by email at info@nashbeanford.com or visit our web site at http://www.nashbeanford.com.
The firm devotes its practice primarily in the areas of estate, business and tax planning and related areas of the law, as well as elder law and trust administration and probate. We offer guidance and advice to our clients in every area of estate planning.
This column is designed for general information purposes only, and is not intended, nor should be construed or relied upon, as legal advice. Please consult your attorney if specific legal information is desired.
Filed Under: Family, Finance, Retirement
Tags: Areas Of Law, Business Accounting, Cheerleader, Cohesive Strategy, Cooperative Effort, Discord, Financial Aspects, Financial Assets, Financial Goals, Financial Planner, Financial Professionals, Health Care Directives, Nash, Plan Goals, Planning Techniques, Powers Of Attorney, Retirement Accounts, Tax Accountant, Team Sport, Team Sports
Trackback URL: https://www.50pluslife.com/2012/02/01/estate-planning-as-a-team-sport/trackback/