February 1, 2012
February is for Sweethearts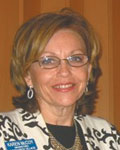 By Karen McCoy
Marketing Consultant
Ridgecrest Village
The month of February is for Sweethearts. This leads me to share a Sweetheart Story from a couple at Ridgecrest Village Retirement Community.
The Sweetest Smile
By Jack Hebblin
"Helen has the sweetest smile. Even though she has a broken tooth now, she still has the sweetest smile. It is infectious."
We met by osmosis. In school, I played in a band with Helen's brother. We would practice at each other's houses. At that time, I was in high school, and Helen was in seventh grade, I didn't really notice her, but she says she noticed me. She told me she thought I was really cute.
When I returned home from WWII, I visited one of my old band buddies, Helen's brother. When I saw her, a young girl had bloomed into a beautiful woman. I was struck immediately. She told me she was, too. We dated every day for two months, until I went to college. On one of our first dates, I asked her if she would like to go on a picnic to Lake Story in Galesburg, Illinois. She said yes then I said, well would you make the picnic lunch. I still have pictures of our first date. We would go to the movies and baseball games. It didn't matter what we did, we just enjoyed being together.
I went off to college for two years. When I came back to town, Helen was still single. We started dating, and in one month, I proposed. I'll never forget the day I proposed. I even have a picture of the house where I proposed. One evening, we were sitting on the front porch, and I said, "Well, I suppose we ought to get married, don't you think?" I don't think she answered me. I called her on the telephone the next day. She must have figured I was sincere, and four months later, we were married. The wedding was at the very house where I proposed to her. When I saw her come down the stairs, I thought she was absolutely gorgeous.
In my profession, I traveled all week long. I would leave on Monday and be gone for the week. Helen took care of our four children by herself while I was gone. My children recently told me a story; On Monday morning Helen would look beautiful, very feminine, hair, lipstick and all. She would give me a kiss and wave good-bye. Then immediately when they got back into the house, she would go into the bathroom and come out grungy. She would say, "OK, let's get busy." Monday is wash day, so they would get busy with the weekly chores; the kids refer to her lovingly as the "task master." Come Friday, in the afternoon she would disappear to the bathroom and come out completely changed back to that beautiful, feminine woman, lipstick and all. She took care of everything during the week, so when I got home on Friday, we could all spend time together. She made every weekend a vacation. She made our marriage work.
We have had a very loving relationship. I have always tried to be romantic. I think that is what Helen kind of liked. I remember one year it was our 25th Anniversary. I had the children gather up 25 pop bottles. We set them up in a path that led her around the house. Each bottle represented one year of our life together and held one red rose, along with a note describing an event from that year of our life together. When Helen came home from town, she followed the path of roses until she reached the last one. It was dipped in gold, sitting next to our bed.
When I retired, we moved to a family farm. There, Helen and I worked side by side everyday, building a park on our land. We planted trees one by one and built two ponds on the land. Those were fun years. I spent every day with her. We grew something together. The park is still there, today.
It was Helen's idea to move to Ridgecrest Village. She recognized that we couldn't take care of the farm anymore. The day we came to look, there it was; the perfect apartment; Just what we were looking for. We would be able to have a garden and sit out on the patio. Yet, we were worry free.
I remember when we first got here, I was so depressed, I wouldn't even go to dinner. I wasn't going to go down there with all "those old people." The funny thing was, we were the same age as of "those old people." Helen was enthusiastic about being here; she wanted me to be as happy as she was. When I finally started going down to the dining room for meals, we would sit with people I knew. Then we met new people and found we had connections from our past. We quickly became comfortable with our new way of life. I am so happy that we made the move. When Helen was diagnosed with dementia, we knew we had made the right choice moving to Ridgecrest Village; we were with people that loved us. They were going to be here with us every day, providing care and support.
Since the dementia progressed, my children and I do things with her we know she will enjoy. This year for Christmas, my daughter brought a small pine tree along with small ornaments. Helen decorated it herself. We could see the joy on her face. She knew she was with people that loved her. Decorating a Christmas tree was something she had always enjoyed.
At Ridgecrest Village, I am able to visit Helen every day at Crest Health Center. I go over twice a day and sometimes three times. Our visits are now memories of the past, what we did and the good things we had. We look at pictures together from time to time. Helen remembers the kids; she does not know the others.
I feel fortunate; I have lived a very charmed life. I can't think of a tragedy that happened in my life, until Helen was diagnosed with dementia. Because we live at Ridgecrest, I don't call this a tragedy. If we had been living out on the farm, I would call it a tragedy. I have learned to be happy with what you have; don't cry about what you have lost.
There are two definitions of love; I am experiencing a love right now that I have never experienced before. It's that utter dependency that she has on me. How she compliments me; "Oh you're so good to me. I love you for that," and then she will stroke my hand. Sometimes she will do something funny and make us both laugh. Those are loving things that you can treasure. When I am alone at night and going through pictures, I think about what I had, and I sort of regret that I have lost it. Why did this disease pick us? Why couldn't we be like other couples? But we can't be, this is life.
The best part of the love story is that it has lasted 63 years. Helen's smile is infectious.
Filed Under: Community, Family, Personal Growth
Tags: Band Buddies, Baseball Games, Beautiful Woman, Broken Tooth, First Date, First Dates, Four Months, Galesburg Illinois, Karen Mccoy, Marketing Consultant, Osmosis, Picnic Lunch, Retirement Community, Seventh Grade, Sitting On The Front Porch, Stairs, Sweetest Smile, Sweethearts, Wwii, Young Girl
Trackback URL: https://www.50pluslife.com/2012/02/01/february-is-for-sweethearts/trackback/