February 1, 2012
On the Go With Joe Hutter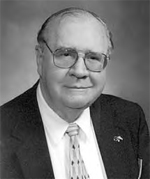 Seniors And Law
Enforcement Together (SALT)
By Joe Hutter
Did you know that one-third of Iowans over 65 live alone? These same Iowans, who live alone, are also willing to talk on the phone or at their front door to a stranger. The lowest of the low, of non-violent criminals are those who take advantage of seniors. Seniors usually save some money and live in homes that need some upkeep that they can no longer do themselves. Seniors need to be careful and look out for each other.
The legislators are now back in session, and there are some things that Iowans should do. The law allows the attorney general to seek a civil penalty up to $5,000 against those who commit a fraud against older people. In Illinois, the attorney general can seek up to $10,000. Iowa should increase the penalty for those who commit crimes against seniors over 65 years of age. For other violent crimes committed against seniors, the penalties should be doubled. Iowa ranks fourth in the number of residents over 65 and third in the number of residents over the age of 85. It makes Iowa the place to go for scam artists. Contact your legislators and ask them to consider raising the penalty for people, or should I say scum bags, who commit crimes against seniors. This goes to both Iowa and Illinois residents, as criminals pay no attention to borders.
The River Bend Transit is now providing rides on Sundays for seniors from 8 a.m. until 2 p.m., according to Randy Zobrist of River Bend Transit. If you need a ride, call (563) 386-1350. Generations Area Agency on Aging received a grant for this service until June 30, 2012. You need to reserve the day and time to catch a ride in Scott County. Chris Merritt, executive director of Generations, hopes this program is successful so it can continue in the future. Ride the bus and avoid the fuss. The bus can handle up to 15 passengers!
Our S.A.L.T. (Seniors And Law enforcement Together) group will be meeting on February 22, 2012 at CASI at 9:30 a.m. Everyone is welcome to come, and there are no dues to pay. Members of our local police departments and from the Scott County Sheriff's office will be there, too! If you have any questions, call Pam at (563) 326-8217.
Take care!
Filed Under: Community
Tags: Borders, Chris Merritt, Executive Director, February 22, Fraud, Fuss, Generations, Hutter, Illinois Residents, Law Enforcement, Legislators, River Bend, Scam Artists, Scum Bags, Seniors, Stranger, Upkeep, Violent Crimes, Violent Criminals, Zobrist
Trackback URL: https://www.50pluslife.com/2012/02/01/on-the-go-with-joe-hutter-28/trackback/