February 1, 2012
Remember Well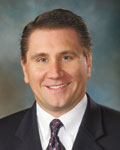 By David W. Deuth, CFSP
President, Weerts Funeral Home
I think about all my grandparents more often than most, I imagine. And I'm grateful to them – and for them.
It was late in February, 1988. We were in college. As mid-term exams were pressing on my schedule, I received a phone call from my parents. Something was wrong with Grandma.
The doctors decided to do emergency exploratory surgery, not so common for someone who was about to
be 88 years old. It was even less common in our small-town hospital.
"Should I come home?" I asked. It was just an hour's drive.
"No, you need to stay on schedule with your exams. We'll call you tomorrow and let you know how things are going."
I thought about Grandma as I went to bed that night. I was thinking about her again when I awoke long before sunrise to go drive my school bus route. She was an early riser, too.
When I returned to our apartment after parking the school bus, I knew something wasn't right the very moment I drove up; Linda's car was still outside our apartment. She should have been at class already. She was waiting for me as I walked through the door, and I could tell by the look on her face that something was wrong. Really wrong.
"What is it?" I asked impatiently.
"Grandma made it through the surgery, but she died in the night….your parents called just a little while ago…"
If she said something more, I didn't hear it. My mind trailed off into that place where past memories play back in slow-motion and the present seems surreal.
I was rewinding to the memories of sitting at Grandma's modest kitchen table, playing cards together, while her homemade bread was baking in the oven. The candy dish in her living room with the pink wintergreen mints. Walking over to Ann's Café together for dinner. And how she always called me "Davey."
If she'd have lived another handful of days, Grandma would have been 88 years old. The church was packed for her funeral on a very cold Minnesota winter morning. My brother and I were among the casket bearers. It was an honor.
Grandma was a tremendous example of hard work, dedication and perseverance. Despite numerous adversities and Grandpa's early death, she met life head on and chose to live it well. By earthly standards, she didn't have too much. And yet, she had something extraordinarily priceless that many never own: she had contentment.
I think about all my grandparents more often than most, I imagine. And I'm grateful to them – and for them. And still today, I always think of my Grandma when people ask me if I prefer to be called "Dave" or "David."
I always respond with this: "You can call me either one. But only Grandma got to call me Davey."
Remember Well.
Filed Under: Family
Tags: Candy Dish, Cfsp, Cold Minnesota Winter, Early Riser, Exploratory Surgery, Grandma, Grandparents, Handful, Homemade Bread, Kitchen Table, Living Room, Memories, Mid Term Exams, Mints, Phone Call, Playing Cards, School Bus Route, Slow Motion, Sunrise, Weerts Funeral Home
Trackback URL: https://www.50pluslife.com/2012/02/01/remember-well/trackback/